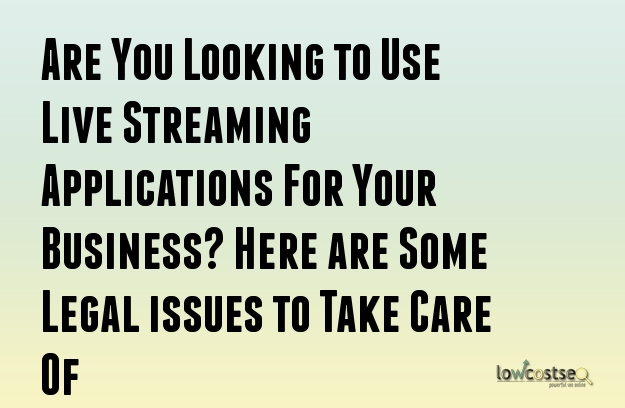 These days there are a wide variety of scopes available in the virtual world. Are you wondering what that scope is? Well, the scope of building a strong foundation for your business is on the Internet, where you are sure to find most of your potential customers. Looking at the current scenario, there are many social media sites that you can make use of for growing your business online. But, are you aware of live streaming applications with the help of which you can also advertise your business? Have you put them to use for the sake of your business? Well, it is important that you are well-versed with the legal complications that may occur. This will prevent you from getting into trouble if the protocols are not followed while doing live streaming.
It is true that live streaming throws light to a clear path where you will be able to connect and communicate with your dedicated followers. But, in the process do not fall into a soup. Always think a step ahead and inquire about the right path to do legal streaming.
Here you will be informed about five genuine steps that will help you do legal streaming for your business and keep you out of trouble.
When you are looking forward to doing live streaming it is important that you figure out a well-strategized plan to avoid legal issues. Here are guided steps to avoid such mishap.
Location - When it is about location it is always better that you make use of your own property or even your company's. If you do not have a personal property of your own, it is necessary that you fetch a location release from the property owner.
Privacy - People always prefer maintaining their privacy and they consider it to be unethical if someone tries to explore their privacy. Thus, it is important if you are live streaming in public places, it is important that you get a release signed from the people who are being shown on camera. If that is not possible do, make sure that you showcase crowd releases. Avoid doing live streaming in private areas like a bathroom, bedroom.
Intellectual property - Never explore someone copyrights of others. Instead, respect and protect them. You also need to protect and respect other's trademarks, and most importantly trade secrets. Always, keep focusing on what is available to you in your frame for your personal live streaming like workspaces, artwork, photos, screens, logos, brands. Never make use of live streaming of visuals and audios like plays and songs.
Likeness - There are chances that you might see the face of someone in the streaming videos. It can be a speaker or an interviewee. It is important and mandatory that you get a release signed by the people whose faces are being shown on the screen in the process of live streaming. This will certainly avoid you from getting sued by them.
Contingency plan - A contingency plan or a backup plan is always handy. Make sure that you have a backup location in case of any emergency. Do not forget to get hold of some of the additional equipment like batteries or other important accessories so to avoid unnecessary trouble.