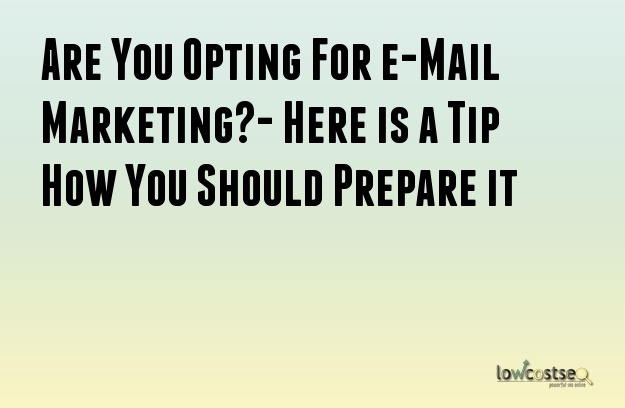 Marketing strategies are considered to be the hands and legs of any form of business. Some even consider it to be the wagon wheel of a business. The term marketing is a vast subject to take into consideration. There are varied strategies of marketing that can be applied in order to pass on your marketing message. But, the catch is which marketing strategy will suit best for product success. Thus, it is very important that you choose your marketing strategy very wisely.
There are some marketing strategies that does not need a full proof strategy to apply like, e-mail marketing. This falls into the category of direct marketing, by direct marketing it means that you can directly pass on your marketing message to your targeted audience. But, yes even for e-mail marketing there are certain guidelines that must be followed. So what are those guidelines? Here, is a list of those guidelines.
But, before you start reading the guidelines there are pre-preparations that must be taken into consideration.
Subject line: Before anything else your subject line should be simple, short, and most importantly should be engaging to the eyes of your reader. Try and be provocative.
The "From" box: this box should consist of your company name and most importantly a tagline consist of 2 to 3 words.
Reply mail: Try and keep this personal. Make sure you give the contact name of a real person.
The list of e-mails: The list of your e-mail is certainly very precious. Try and broaden your clientele base by simply adding the e-mail address of the people whom you come across on various networking events or even social media request.
Now, lets talk about the content that you should include in your marketing e-mail.
Blog post: You must be maintaining some blog posts. Well, then you should re-purpose the blog content and format it into an e-mail message and spread it like a viral among the list of e-mail address.
E-Newsletters: You must include a minimum of 3 or 4 features in the e-newsletter. It may be a blog post, an announcement made by your company, industry based news or even small hints.
Announcements: Try and design a special e-mail through which you can announce special events, webinar or even a fresh project. These things will certainly help you to draw the attention of your customers or the readers attention.
After you are done with all the above-mentioned elements it is important hat you recheck before sending it to your customers. So what should be your final checklist?
Make sure to check that your subject line is engaging enough to draw the attention of your customers.
Try and add a pre-header that gives a brief idea about your business.
Make sure that your pre-header has an unique design.
Are you certain that your header is qualified enough to grab attention?
Does your e-mail content have an alluring image?
Is the e-mail you have written is skimmable?
E-mail marketing is the best marketing strategy you can take help from, but it is important that you follow the right procedure to make your e-mail marketing a true success.