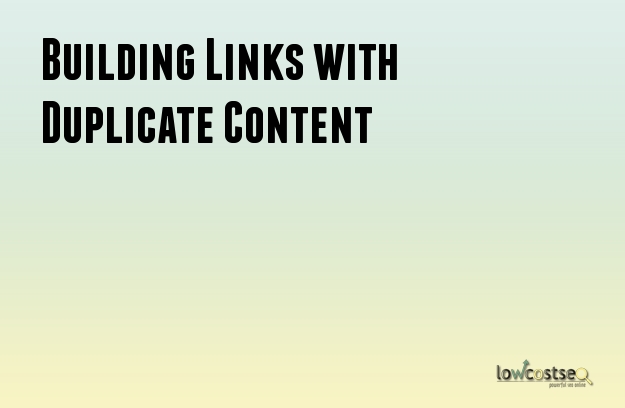 Today we will look at another technique or tactic that never really worked at all. This is regarding building links with duplicate content. Google can easily figure out when a piece of content is copied or not or if you submit many articles or pieces of content it can or will simply ignore it if the work is all copied. Years back this might have been the way to capture a link from a site with a higher page rank that accepts to post your duplicate content but today it's just a way to getting your site penalized. Google is very intelligent and it understands that spammers will simply try to use this technique in order to manipulate your rankings and shall we tell you what, it never works.
Another root of this tactic was to simply spin an article by having it run through an algorithm that creates automated variations of it. This created very low quality articles that were no longer exact copies. Basically one can easily tell the difference in the articles by just reading a few words in it as the grammar is totally out of context. If they think Google or other search engines can be fooled by such techniques then you're wrong as Google can quite easily tell the different between written content by a human or by an algorithm.
Now you all will be asking what is the alternative to all this and is there a way to get multiple links from a single piece of content? Well its simple, the best way to do it is write unique fresh content and post it somewhere to attract natural links as a result. It does not make sense in creating content then submitting it whereby you only get a single link back to your site. This is definitely not the way Google intended to count the links and is not the best method to grow your link profile either.
Well to get the highest quality link to increase your link profile at a better rate, you must get your content published somewhere it will be read. If you need to carry out Link building work then get in touch with us today and we'll be more then happy to assist you in doing so. All in all, do not waste time on content submission that will only result in a single link back to your site.
How to Build Links without Unique Content
Recently we have received lots of questions about how to rank without having unique content on the website. Now this is surely a difficult one for us to answer too as we as SEO experts know how valuable unique content is. As a reader you would not want to read the same content again and again so having different content is not only essential but critical to your site's success. Now what if its not possible to do so, in the case of a price comparison website? Infact any sort of comparison site will encounter such a problem due to its content being duplicated or unavailable. These sites simply have the same content as their competitors When we say content we just don't mean text as that is what people think we imply. They also have similar images and as they do not take them hence they have no unique way of displaying them or better clearer images with high resolution etc. The other cases where there is a problem with content uniqueness takes place in travel agencies, booking agencies where they all aggregate content from the original source.
How to solve this problem?
Well by using the data and also add unique insights to it. You could possible present the data in a unique value for the visitors to see. A good example is the data can be used to show historical price change of the product prices that you tend to display. You can show fluctuations in pricing with the help of trendy cool graphs that predict the price rise and fall in the different times of the year. Do you have other ideas on how data can be used to add additional value to the users?