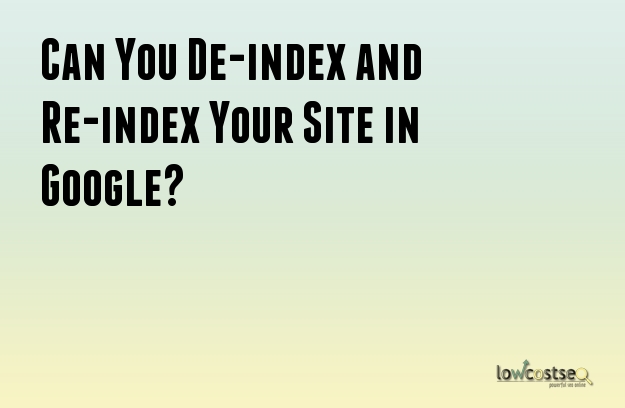 De-indexing a website can be done if you think that your business website is not up to the mark anymore. Once it is revamped, you can re-index again.
How to Deindex
If you want to remove your website from Google, de-index it, your website will not be listed in the search results any more. The first thing that you are going to need is to register for a Google webmaster account. Add your website to the Webmasters. This will need you to confirm your website by uploading a file from Google to the base of your website. The search engine will not eliminate any website from the listing if it cannot verify your website ownership. Wait for a few days for the results to show in Webmasters.
The next step is to get back to Webmasters Tools and move to Google Index to Remove URLs. Click on it to be guided to the URL removal tool. The tool can be used to eliminate a URL or the whole of your website. If you want to remove the whole of the website, enter / in the box and submit. Google will send you a confirmation if this is what you really want to do. Once the request is complete, Google will queue it up for action your website will not be instantly removed. It will take place within a few weeks.
The last step is changing your robots.txt file in your website root directory to disempower Googlebot. Otherwise, Google will re-index your website the next time it visits it. A robots.txt file is a text file which sends special instructions to the spiders visiting your website for indexing the contents.
The robots.txt file contains this code:
User-agent: Googlebot
Disallow: /
How to Reindex
Often, you might not be able to find your website on Google even after typing it. In that case, you might be required to pay a penalty such as Lost Google. Your website will not be included in the search results. In order to restore the domain to come back, the process is a tricky one, and rests on your luck too. All you need to do here is park your domain. However, you will come across websites which are not even too old, but those have not been entered in the search results.
Make a request to get back your index domain. You will need to cite the following 'The domain has altered ownership and I give word to fill it with high quality articles'.
Fill your blog with high quality content of 500 words each and add a minimum of 10 articles to it
Create a navigation page such as Home, Privacy Policy, Contact Us, Disclaimer, About Us etc.
Provide high quality backlinks to your website such as wiki, press release, social bookmark, etc.
If you keep trying and practice the above steps, you can get back your domain index from Google. With the Google Panda algorithm, your data is refreshed once every month; so make sure you stay updated.