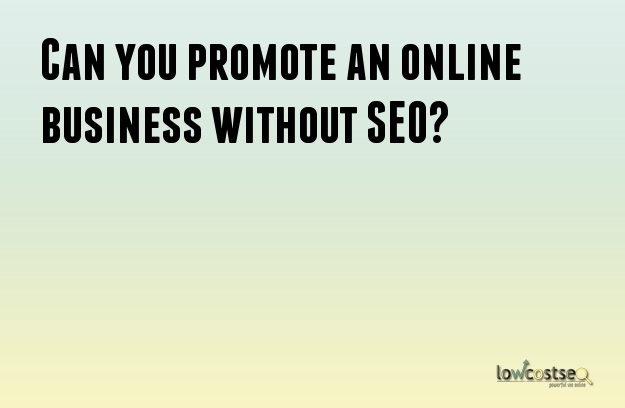 Can you promote an Online Business without SEO?
The concept of Search Engine Optimization, or commonly known as SEO, is essential for any companies to build an online presence. The 'UK Top 40 Singles Chart' is a music chart where songs are ranked according to their popularity. The chart has a similar impact on the sales of music albums as SEO has on an online business's sales figures. An appearance on the music chart equates to more exposure to the masses, just like appearing on the first page of the search results would give your website more traffic. An increase in visibility leads to more traffic, which would in turn raise the probability of making a sale.
Does that mean that SEO is the only way to thrive online?
It is premature to conclude as SEO is just one of the many methods in online marketing. An online marketing campaign should be a hybrid of various marketing methods. From buying advertising spaces to building communities on social media sites, the combinations of these methods have proven to yield a better result than a SEO-oriented marketing campaign. Record labels are still using traditional advertising such as TV ads to promote their artists' latest albums.
Paid advertising such as Pay-Per-Click has been a popular choice for instant results, and this is a gap that SEO is unable to bridge. A typical SEO campaign will usually require months before you are able to see results. However, paid advertising can be costly and do not necessarily pay off.
Social Media advertising has been on the rise but one of its biggest drawbacks is the need for consistent maintenance. While it may require zero capital investment to create a social media account, it requires a significant amount of time and effort to engage and build a network of followers. Even so, these followers are usually targeted and this restricts your business from reaching untapped markets.
So how does a business create a cost-efficient and unrestrictive marketing campaign?
The importance of SEO has not been overrated as search engines are the best marketing channel to reach potential customers. While SEO may have its downsides, search engines allow you to bring your business to customers who are intentionally looking for your services or products. Remember how we used to flip open a hard copy dictionary to define unfamiliar words? People are now tuned to go to search engines for answers.
Optimizing a website through SEO can be time-consuming and tedious. From altering your website's content to adjusting HTML codes, these tasks can be easily outsourced to a professional SEO company at affordable rates. Google's search algorithm is ever-changing and it is inefficient for a website owner who is not proficient in this field to keep up with the changes.
In conclusion, SEO is just one of the many ways to promote an online business. A multivariate online environment means that solely focusing on SEO will be futile. Drawing on the strengths of your available resources to design an optimal online marketing campaign will be the wisest thing to do.