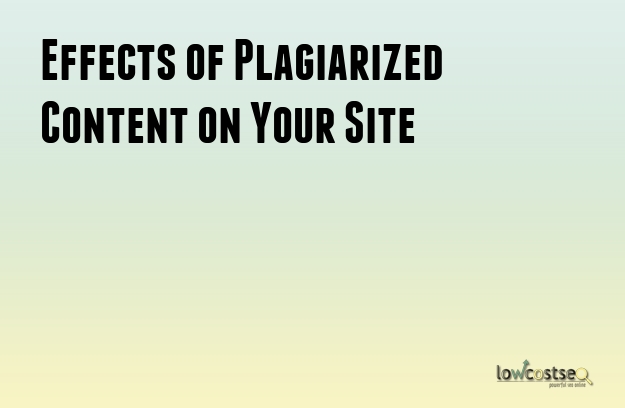 It is a fact you cannot deny that plagiarism is wrong and is unethical. You cannot justify plagiarism in any way possible, but you can simply avoid and remove it for your own good.
There are more than hundreds of websites on the digital platform these days that are maintaining and uploading their work by simply copying work from other reputed and mature web pages.
Another interesting fact about plagiarism is that it damages both the parties, the one that is plagiarizing, and the one from which the content has been stolen.
Now in today's article, we are going to simply help you in learning the effects of plagiarism, specifically if you have duplications in your website content. Plagiarism has a lot of negative effects, but people still do it because of the unawareness relative to this matter.
According to recent reports, more than 30% of content on the web is copied or paraphrased from the other percentage. Now below are the different effects of having plagiarized content on your site!
It can cost you your reputation!
A lot of anti-plagiarism software is more commonly known as the plagiarism checker tool on the web, and it is quite impossible today to get away with plagiarism. Every mature or even immature department related to content writing and management is simply using plagiarism checker tools to authenticate their work before publishing and so if you are thinking of uploading content that has plagiarism in it then there is no chance that your site will be ranked or even indexed on the search engine!
Your audience will know that you are plagiarizing!
Website audience is everything you need to run your site, and without a proper organic audience, you can simply not avail of business or get the top-ranking positions on the search engine's listings. When you have duplicated text on your web page, then the audience will surely know as they would have already read it on other pages and sites. Even if your content is the first one that they read, you are still going to lose your audience soon after they read the content from where you have plagiarized your work from. Now, this is also very dangerous for your site.
SEO score is ruined by plagiarism!
Search engine optimization is very much important for a website, and different seo techs and tools can only work efficiently if your website content is free of plagiarism. One of the biggest ranking factors considered by the search engines is the originality of your content. Duplicated content cannot be ranked on the top shelves as it negatively affects the business of the search engine itself. Google and other search engines use algorithms that can detect unique and duplicated content in your work, and on the basis of the ratio of originality, your work is ranked. Of course, other factors are considered as well, but the most important thing if you want to get to the top with a good seo score is you have to publish plagiarism free/unique content!
Google Penalties!
If your website is already mature and is on the top search ranks, then you have to be extra careful as it can simply lower down your position. A common mistake that people make after getting to the top is that they start plagiarizing content to widen their own page. This results in a negative score, sabotaging your reputation in front of the search engine, and google poses huge penalties that you won't like to pay through.
Penalties by google are not always monetary. Rather, Google can suspend your domain for days, even weeks, and in worst-case scenarios, it can simply expel your domain from its database, and you will have to build your site from scratch! If you are a mature website owner, then how much time and effort is required to get a site to the top!
Avoiding Plagiarism
Now, there are a lot of reliable plagiarism checker tools on the web that can help you in avoiding plagiarism in your content. These plagiarism checker tools cannot only scan your work for duplication, but they can also simply remove it from your work before you publish it. One of the best examples of reliable plagiarism checker tools is Duplichecker.com!
This free plagiarism checker by Duplichecker is very easy to use and operate and every can check his work like a pro with this plagiarism tool. This duplication checker is not only free but is highly reliable with extensive features. With the help of the plagiarism checker, you can check new as well as already published website content so that you can know if someone is using your work without your consent!