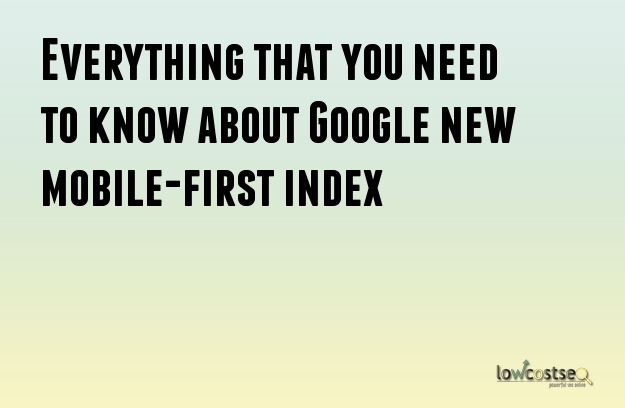 If you want to take advantage of Google and increase your SEO ranking, you had better stay up to date with the latest releases and updates Google does for its search Engine. Recently, they have come up with a new search index, which is called mobile-first. If you know all there is to about mobile-first index, then you can increase your search engine ranking. So read on below to get to know everything about Google's mobile-first search index.
With the huge rise in popularity in mobile devices, Google has shifted its focus to mobile-device friendly browsing. So they have come up with the mobile-first index. What this means is, basically, websites that have a mobile version or are mobile friendly, will get ranked higher in Google searches.
When a person does a Google search, the search engine trawls through millions of links and then delivers the relevant links to those people. If you want your website link to be at the top of that page, you have to have a mobile ready website. This is because, with Google's new search index of mobile-first, they prioritise websites that are mobile friendly because they want to deliver the best experience to Google users.
If you are wondering about how this will affect current search engine practices, you should read more below. Google said that there will be some minor changes to how their searches work now.
Those with both desktop and mobile versions of their websites will have both of those links trawled. This means that if you have a mobile website with less content than your desktop version, you should work on that. This is because Google will most likely index the mobile version of your website, and see that it has less content, and will, therefore, rank it lower.
For people, who do not have a mobile version of their desktop website, there is no need to worry because Google will still index and rank your website accordingly.
However, to really maximise the search ranking of your website, you have to have a mobile ready version of it. Google recommends that the content of both your mobile and desktop websites remain similar in order for the search engine to rank your mobile website the same as your desktop website.
Google says that websites that are not mobile-friendly will not rank as well as those other websites that are mobile-friendly. So if you want to increase your search ranking, then you had better work on the mobile version of your website. This is because more and more internet users are using mobile devices to browse the internet.
The search engine company has promised that this should not dramatically affect current search rankings. But other websites can immediately take advantage of the mobile-first index, by creating mobile-friendly websites that other older websites are just not designed to do. Google says that the new and complete implementation of the mobile-first index should be happening in several months.