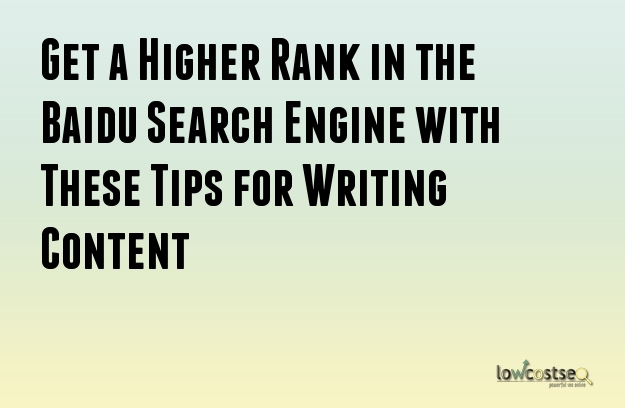 Baidu is the most popular search engine in China. Thanks to its widespread use, it has become important for businesses in the country to optimize their websites. Be that as it may, SEO for Baidu is a very different proposition from the other search engines such as Google or Bing. You need to ensure that the content of your website has been created according to the preferences of Baidu.
No Duplication of Content
Search engines do not like websites that have duplicated their content. However, Baidu is very strict when it comes to this issue. You have to ensure that each and every piece of content in your website is unique. If other websites have scraped your content, you will have to request them to remove the content they scraped.
Pay Attention to the Language
Chinese is a language with many aspects. There are a huge number of dialects and each word can have multiple meanings. At the same time, there are two ways of writing the language. Chinese can also be written with the help of Romanized characters.
Baidu gives preference to content that has been written in Simplified Chinese than Traditional Chinese. Therefore, your content as well as Meta tags should use Simplified Chinese. Additionally, you must avoid Romanized Chinese which is disliked by Baidu.
You need to remember that in Chinese, a word can have several meanings which may not have any relation to each other. Therefore, the content must be thoroughly scanned and proofread to make sure that the correct words have been used. Keep in mind the dialects as well.
The Quantity of Content is a Factor
Baidu gives a lot of importance to the quantity of the content when it is ranking a website. Of course, it considers the quality as well. Each page in your website should be filled with unique content. A minimum of 300 words is recommended for all webpages.
Limits for the Title Tags
The title tags can be written for Baidu in the same way for other search engines such as Google. However, the character limit is different for Baidu. If you are using Romanized characters, then the limit will be 70 characters. On the other hand, the limit will be 35 characters if you are using Simplified Chinese.
Meta Descriptions and Meta Tags are Important
Most search engines like Bing and Google have stopped using meta descriptions and meta tags as a direct ranking factor. However, Baidu still uses them. Use keywords and key phrases for them so as to improve the ranks of your website.
Blogs Are Still Critical
Your website should have a company blog when you are optimizing your website for Baidu. Blogs do allow you to increase the internal links. At the same time, they make your website seem rich with content and that is preferred by Baidu. There is a news feed specifically for blogs by Baidu which increases the chances of getting traffic that way.
Content is an essential part of search engine optimization for all search engines. The same applies to Baidu albeit in a different manner.