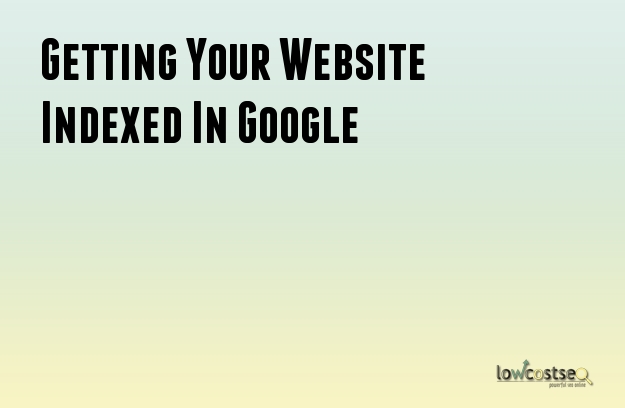 If you are a businessman and want your brand to become known to people, the most important thing you need to do is create a web site of your business.

However, the process is incomplete if you cannot get it indexed in the major search engine Google. The SEO companies may claim that they will get your web site in the first position of the search engine. However this is not possible without the use of certain unethical practices.

The present search engine optimization technique is more focused and it concentrates more on the content. The process is very different from the traditional techniques used. Getting your web site indexed with these techniques is also easy, but you need to follow certain tricks.

·Knowing Your Target: The first and foremost thing that you need to be aware of is what exactly you are targeting. A web site is ranked in the search engine with certain keywords. The keywords are those phrases that the net users search the search engine with when they are looking for certain products and services. It is advisable to look for long tailed keywords as it provides a proper level of concentration and makes the web site more trustworthy. You must be particular about defining the keywords.

·Have A Proper SEO Foundation: If you want good SEO services, you need to have a good content management system. Having your web site in the WordPress platform will make it very easy. It is a good platform as it can be customized in accordance to the requirements of the project. WordPress comes with a number of themes, some of them are free. Selecting a good theme is also crucial if you want quick results. Also make sure that you choose a theme that is compatible with mobiles and tablets. After the theme installation is done, you can set up the plugin.

·Create Powerful Content: As the optimization techniques today are largely dependent on content management, you must be very particular about create good content and in huge quantities. Research has shown that content of long length are more favored by the readers than the short ones. Go for at least 2000 words long articles for the pages if you want the best results. Make the content very focused and use the keywords and the relevant terms in the body as well.

·Keep Adding New Posts: Google is always looking for new and fresh information. If you do not update your content on a regular basis, your web site will lose its freshness and lag behind in the search engines. Publish articles and blogs frequently and include relevant information in it. You also need to promote the content that you publish in order to enjoy high rank. You can promote the articles by sharing it in different social media platforms like Facebook, LinkedIn, Google+, PinInterest. It can also be shared in form for email newsletters and pay per click advertisements.

By following these steps, you can get your web site successfully indexed in Google.

Image Courtesy:
www.4mation.com.au