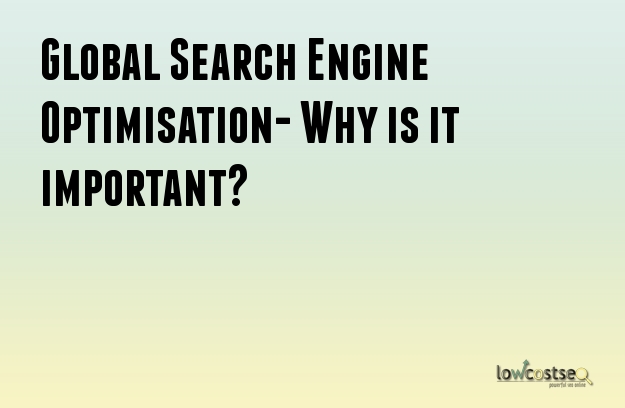 What type of search engine optimization techniques are your using for your site? Is it Local or Global? If you are telling me it's kinda global then you really need to understand what global SEO is. When you are thinking to expand your business to a global level then you have to tap into various markets around the world. Internet is like a supersonic vehicle that allows a business to explore and market their products and services to the entire world.
SEO is an important aspect when it comes to internet marketing. While the technology is changing with small shifts now and then, SEO techniques are evolving as per the search engine guidelines. Today the popular SEO service providers have figured out new technologies and tools that can make a website efficient and visible to the internet users. However, only the experienced SEO experts can tell about which technologies will help a particular business. Now when you are looking to put your website on a global platform you have to follow specific SEO strategies that will make your website visible not only to U.S customers or UK customers but to the whole world. To achieve this you have to do certain things that will open up the global possibilities. Below are some of the SEO global techniques that will help you in the business.
Understand customer requirements
This being said thousands of times it would seem ridiculous to hear again. But when you are targeting your products and services to the global customers the requirements will change based on the regions you are working in. The simplest and most apparent concepts often get overlooked and achieving proper SEO becomes impossible. To understand the requirements of the customers at the global level you need to understand the diverse cultures around the world. By knowing the differences you can represent well to the audience from various regions. So global SEO is in fact the cumulative local SEO done for the entire world.
Do you homework
About Keywords, Meta tags, hash tags etc has been talked from a long time. Many often spend very less time in when it comes to making a list of appropriate keywords and phrases. But when you have decided to target your products and services at a global level then you need to spend more time to note down keywords based on different regions. While you are listing keywords take cultural differences and non nativity into account to properly do SEO for the regions. When you do this right you will cover different countries efficiently in your SEO efforts.
Posting content for global customers
When your content is of top quality, the people will read and recognize it. Again you need to give what they want for keeping them engaged. Once you add the audience to your subscribers list, they should be presented with exciting information and updates. This will develop a positive relationship and create emotional connections to help your business.
Search Engines run on different versions across countries
Keeping this in mind and targeting the SEO for different versions of Search Engines increase your exposure. The search results will be able to capture you site as appropriate and present it as native content to a region. One way to become local to a particular region is by creating profiles on social media networks based on the countries.
There are many other SEO global techniques that has to be incorporated to get full global exposure to your business.