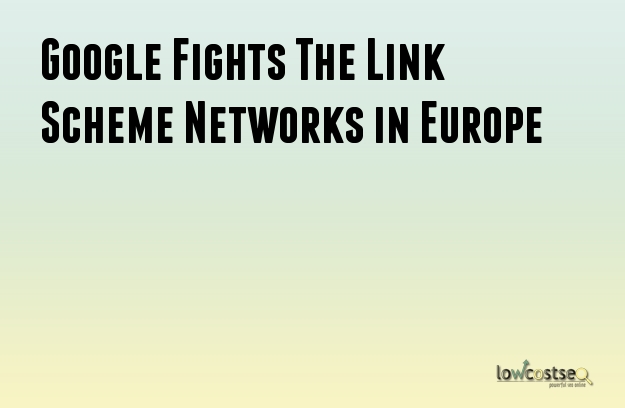 Google Fights The Link Scheme Networks in Europe
Google seems to be in no mood to hang up its boots when it comes to battle it out with largely spammy link network sites whose sole objective is to help bad sites rank high by manipulating the loopholes of its algo. The latest victims are one – German link network and another European link network. However, it is not clear which two link networks have actually got affected by this action but one thing is crystal clear that Google is leaving no stone unturned to stop these link networks from meddling with its algo and the relevancy of its search result.
The news was first confirmed by Johannes Mehlem via his twitter account. However, the chatter in the webmasters communities were getting louder and the official confirmation just corroborated the fact that some actions have been taken by Google to curb the growing menace of spams. Taking actions on link network is nothing new. In fact, Google takes actions against link networks time to time to clean up the web. In the last few years, Google has taken actions against big link networks like - SAPE Links and its likes. And Google does not even stop at there. It has also penalized guest blogging platforms that have gone too far with the concept of guest blogging. MyBlogGuest, PostJoint etc are some of those widely popular guest blogging networks that have come under the scanner of Google.
However, the big question is why Google after all takes actions against these link networks. The reason is that Google's latest anti spam algo – penguin update is not that strong enough to deal with spam with large scale. Moreover, if Google makes the algo too stringent, it might affect millions of websites that might have not been involved in spammy SEO activities and therefore, it makes sense to manually review these link networks and then penalize them individually. This makes sure that only the websites that are thriving on the links built by those Link Networks get nuked at the end.
As far as the claims of the company are concerned, Google is taking actions against these link networks as a part of its broader goal to make its SERP more relevant and accurate. Google always try to promote high quality websites in its SERP because if low quality websites pervades its SERP, fewer people will be using it and this will definitely affect its revenue from Ads. Google has updated its Webmaster Guidelines on Link Schemes long ago to make webmasters aware of the possible pitfalls of building unnatural links pointing to their website to get higher rankings.
So, if you have been involved in building low quality links by participating any of the available Link Networks, you need to stop doing that right away. Sooner or later all link networks are going to get penalized by Google and if you website happens to be a part of it; your website's visibility is going to get affected negatively. So, better safe than sorry. Deactivate your accounts if you happen to be a member of any of the link networks so far.