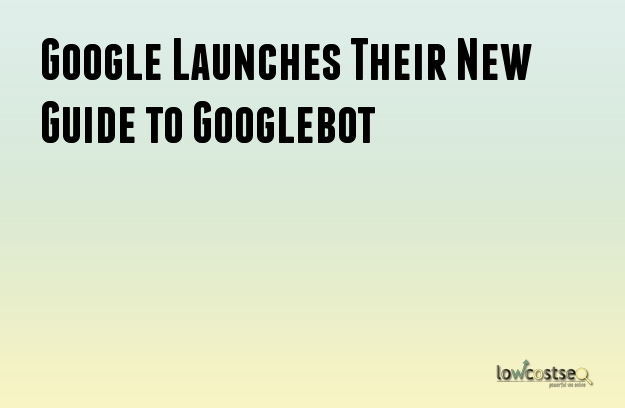 The World's most favourite and popular search engine Google announced that they have launched a new in-depth guide to the Googlebot so that users can follow their tips to make their sites friendlier. This was announced on their blog recently. This is an excellent move by Google who is always looking to educate their fellow webmasters so that we as end-users are able to enjoy great friendly sites to browse.
If you have been a webmaster then you know the most difficult and confusing task is moving a site. Everyone is confused as to how to do it and most importantly if the rankings will be lost when a site is moved across to a new platform or domain. In this new guide, Google has tried to answer these curious questions for us so that we are able to understand and worry less with regards to site migration within the Google search engine. All in all, we as webmasters just want to be in Google's good books and practice white hat SEO methodologies.
So, if you're one of those who's not experienced or unfamiliar with site moves, Google has a great run down to the basics.
The Basics of Site Moves
Google states site moves as being one of the two kinds of content migrations: The first one being:
Site move without URL changes – This is when the site's Content Management system also known as CMS is getting changed. It could you are moving the site from Plain HTML to WordPress or to Magento. Another instance is changing your hosting provider, but still keeping the same URL. In this case, you might move from www.justanexample.com to a totally different hosting company while your website structure remains the same as well as the URLS too.
Site move with the URL changes – This is when the URLs changes in a number of different ways. For example it changes from the usual protocol: http://www.justanexample.com to https://www.justanexample.com.
Another instance is the domain change from say 1234.com to 1234.net.
The URL paths: http://123.com/page.php?id=1 to http://123.com/widget.
Google has covered both of these site moves in greater detail within their guide. This will be a fantastic tool to use for all those webmasters who do not have experience in site moves or have moved their sites incorrectly. Following these steps will make sure nothing gets overlooked when moving a site across to a different platform (CMS) or a domain change (URL).
In order to help webmasters across the world, Google has updated the site move guidelines in its Help Center. Google pledges to continue to improve its crawling of websites so that it can help detect errors on the sites quickly. All in all, this was a brilliant step taken by Google to help many webmasters in the most confusing topic of moving sites and domains.