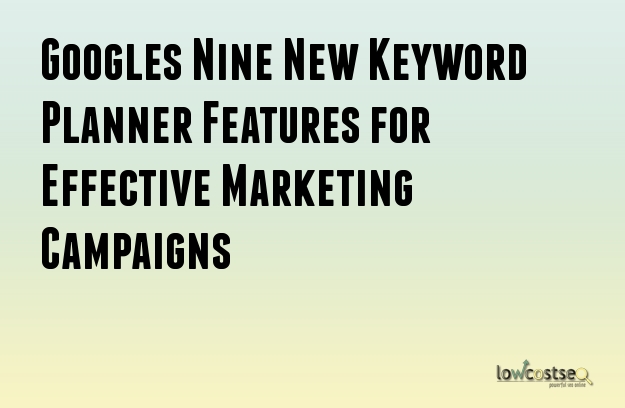 Google recently announced the release of several improvements to their Keyword Planner Tool. The Keyword Planner Tool is already the best friend of many marketers. By using the newly released features of the Keyword Planner Tool to their full potential, marketers can gain excellent results from the tool, for both new and existing marketing campaigns. Let's take a look at each of the features and their potential benefits.
- Graphic Visualizations
You can view the distribution of demographic data relating to the clicks per day, in a new graphical format. This feature allows easier visualization of your data, broken down in a friendlier format than the tool previously offered.
- Location Breakdown
You are now able to break down your target location even further, drilling down to a view of where the most clicks are taking place. You can target, for instance, a given country, then drill down to the state level, the postal code, or even the specific neighbourhood.

- Monthly, Quarterly, and Annual Estimates
With previous versions, you could estimate the daily click and cost estimates . Now you can also add monthly, quarterly, and annual forecasts into the mix. For many marketers, this will help forecast marketing budget projections for a given time period, in a much more accurate manner. For others, this way of estimating and planning may help to more accurately allocate funds across a given period of time.
- Device Segmentation with Bid Adjustments
Are your clicks most likely to come from a desktop, mobile, or tablet? Should you adjust your bids based on where your users are viewing yours ads from? This feature helps you to understand the devices that are most common used by your audience, and allows you to optimize your marketing campaign for your users.
- Device Segmentation Graph
This simple, at-a-glance feature provides a graphic representation of the percentage of average monthly search volumes coming from particular types of devices. Similar to the Device Segmentation feature, the Bid Adjustment view is more focused on the source of the traffic rather than how to adjust your bids according to device. For instance, if you find most of the people clicking on your ads are using mobile devices, then making sure your campaigns landing page is optimized for these types of devices is critical to your campaign's success.
- Absolute and Relative Changes in Ad Groups and Keyword Comparisons
Previously you were able to view how your ad groups and keywords have performed across periods of time. You can now compare not only keywords and ad groups to each other, but also how they performed from one time period to another. This will allow you to adjust your budget accordingly, as you see improvements or declines in your campaigns.
- Mobile Trending Graph
This new view allows you to see traffic coming from mobile devices in comparison to traffic coming from all other devices. Once again, marketers can then make great use of this tool by adjusting their bids and optimizing their content, based on the trending traffic data.
- Compare Search Volumes for Specific Time Periods
Has your keyword lost its relevance? Is it gaining popularity? Is it more frequently searched over holiday periods or during a given season? This new tool allows for you to answer these questions by searching your keyword volume across specific months and years. Marketers can then use this tool to their advantage by increasing their budget around key traffic times or forecasting an increased budget based on the received data.
- Time Periods for Keyword Suggestions
Perhaps the most fun of all the features is a way to get suggestions for keywords AND graphically map their volume across a period of time. This allows marketers to use to their advantage, all of the information available to them in terms of smart keyword suggestions and volume this generates over time, in a simple graphical view.
Given all of the great features that have been added to Google's Keyword Planner tool, your biggest problem as a marketer will be choosing where to start refining your campaign, given all of this new information that is now at your fingertips!