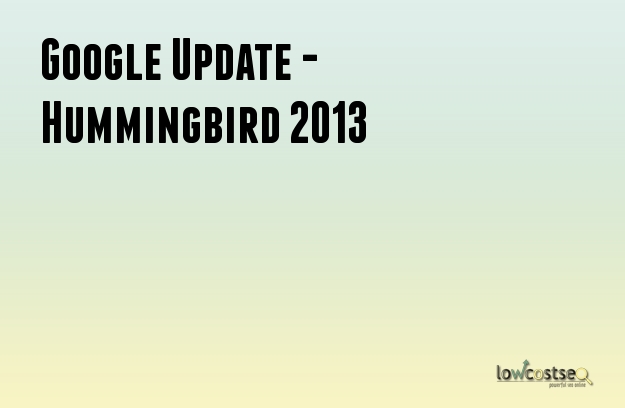 We're pretty sure you must be worried on the news of another Google update and want to know how it will affect your website. Firstly we are getting lots of messages asking us if this "Is Hummingbird Google's Biggest Algorithm Change in last 12 years?"
First and foremost, Hummingbird (name of the latest Google update) is not based on an algorithm update as its predecessors such as Panda or Penguin. This is an entirely new algorithm. Penguin and Panda are actually just parts of the big algorithm whereas Hummingbird is itself the bigger algorithm. We all know that Google has been around for sometimes now and this has certainly been the biggest update they have done over the past twelve years or so.
Now many Webmasters are concerned to the level of impact "Hummingbird" will have on search results? Will it be positive or negative? These are a few questions that will worry lots of webmasters across the globe. There is hope and somewhat positive news for the webmasters who are scared to being struck down by the major changes that Google will implement to its new algorithm. If you're site was not hit by the Google Panda and Penguin update, a month ago then you do not need to worry much about it.
Recently, Google announced this algorithm update during a press event. They also mentioned about other interface and knowledge tweaks. After the even, we understood that Hummingbird was described as the biggest Google algorithm change since Caffeine. This new update is designed to allow Google to quickly parse entire questions or any complex queries and then return answers that are relevant to it. Before it was about queries in relation to the keywords. This update is more to do with Google's Knowledge Graph as it is trying its best to understand how your Web works. Its wants to connect in a way that it understands your webpages and the data present in its Knowledge Graph.
At the same event, David Sullivan was also present, and spoke with Google's Amit Singhal and Ben Gomes about the Hummingbird update in detail. From the talk we got to understand that it was called Hummingbird because this update will be precise and fast. We also found out that Singhal told Sullivan that such an algorithm change was not rewritten since 2001 which makes this update even bigger.
Google also mentioned that "Hummingbird" update pays more attention to each word in a query. This implies that when you enter a full query, being a word, phrase or sentence, this all will be taken into account rather then just particular words.The objective is that pages that match the meaning do better, instead of the web pages that just match for a few words. Their objective is to utilize their knowledge graph and hope it will bring back high quality results then before. So it does seem like Google wants to get less dependent on keywords which has a direct effect on SEO and many webmasters will be worried on this account as the competition to get high on the search results pages will get even tougher now.
What we see here is Google wants to know as much as possible about your site and wants to understand it better then before. As for now you do not need to worry about anything as (per David Sullivan's report) Google's SEO guidance still remains the same.

All in all, one thing is clear from the update that keywords are quickly becoming of little importance to search engine ranking success as Google is getting smarter in understanding what exactly the query means. If you want help in understanding this update please contact us and we'll happily assist you with any SEO requirements you have.
See this great infographic by Digitalinformationworld showing the guide into the world of Hummingbird.