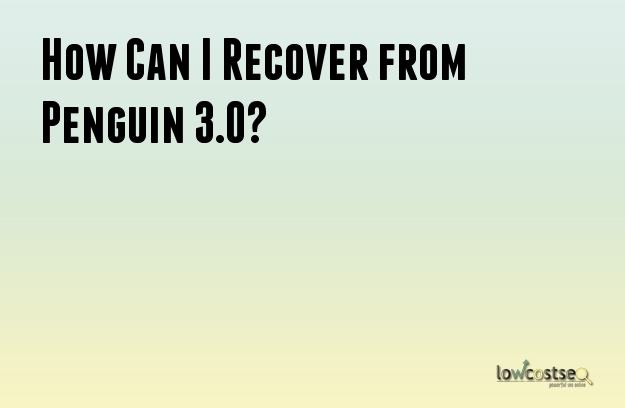 The most common penalty to affect website owners who have engaged in aggressive link building strategies is the Google Penguin algorithm. It was introduced in the market in April 2012 and looks for unnatural and forced link patterns for penalizing websites that want to manipulate search engine rankings through the use of artificial links. However, if you have been affected, here is what you can do:
Assess and Analyze
If your website has been affected by the Penguin, there are high chances that your link profile is at fault. It is best to pull all your backlinks from the Google WMT and any third party source. Eliminate the duplicates and evaluate the links, estimating the ones that are hurting the website. Here are a few examples that Google considers link schemes which violate their quality norms:
Bad quality bookmark and directory websites
Unnatural exact matching anchor texts
Hidden links
Paid links
Large scale guest posting or article links
Irrelevant forum comments
If you feel that your link profile does not appear to be the problem, it could be a few onsite issues that are causing the problem. Methods such as keyword stuffing, and hidden links and text can be the reason. Make sure your website has been appropriately reviewed.
Remove the Spam
After compiling the list of spam links, you need to manually remove them. Collect the contact details on the domains that the links are falling on and ask for the link to be removed. This can be a great thing to do. If you cannot remove some links, you may disallow them in the Google WMT. This informs Google of no longer associating these links with your website. The search engine also mentions this in their disavow backlinks section. Once the file has been uploaded, Google takes time to include the file in their database to take action. The experts at Low Cost SEO provide link removal services by successfully rectifying your link profiles in any industry.
Wait and Practice
After disavowing and removing the links that affect your website, you need to wait until the search engine refreshes their Penguin algorithm before any changes are observed. If you had taken the right methods for removing or disavowing the accurate links once the algorithm is refreshed, you should see the results in both the search engine rankings as well as the organic traffic. Even post recovery, as you are waiting, you can create a fresh strategy on these actions that you can take on your website. You can do the following meanwhile:
Create and enhance quality content to build links naturally
Build relative and quality links
Create the band with the help of social signals
Create relationships through relationship outreach
It has taken Google more than a year to update Penguin. However, this recent update has permitted the algorithm to refresh frequently. While recovery might be an elaborate process, it is absolutely essential for your website to prosper.