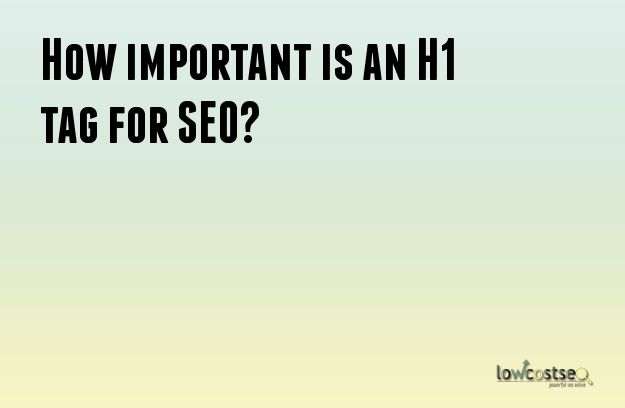 Why H1 Tag Still Has a Big Impact on SEO
Search engine optimization tactics are ever-changing due to the regular updates made in search algorithms such as the famous Google Panda. However, these SEO changes are not necessarily dynamic as some areas like utilizing headers and h1 tags, which are the basic search engine optimization strategies, usually remain unchanged and have significant impact on the overall page ranking. The use of clean HTML in web-designing is always considered as a basic SEO tactic that webmasters must have. HTML is basically a markup language which offers a structure that is both web-browser and search engine friendly. Search engine robots always like plain HTML codes for their indexing purpose.
H1 tag is a very important SEO technique that utilizes HTML coding.
A research titled 'Do H1 Tags Still Help SEO?' done (http://cbutterworth.com/do-h1-tags-still-help-seo/ by Chris Butterworth) clearly showed that using this tag has some impact on the search engines page ranking. This tag helps in subdividing your web page into distinct sections, which not only give search algorithms speedy crawling, but also optimizes human readership. H1 tag always contains main headlines, which is why it is given priority in terms of web-page crawling; and consequently get higher page ranking when used.
On the other hand, using H1 tags as opposed to long and complicated CSS coding styles that use different tags and attributes such as DIV can significantly increase your page loading speed. Big search engines like Google serve web-pages using many algorithms, with page loading speed being one of them. Web-pages which take long to load suffer higher bounce-rates from users, and it is only logical for search engines to avoid them more frequently. Search engines have shifted their focus to providing a better user experience, as opposed to ranking solely based on content itself.
While using this valuable HTML tag is not compulsory, webmasters who uses H1 tags on their web-pages enjoy free site visibility in search engine results page. Every web designer knows how the visibility of a website in search engine results is very important for a high return on investment; the more and higher your site appears in search engine results page (SERP), the higher your conversion rate will be, which in turn translates into sales. Human are visual creatures, which means that we are naturally attracted to larger and bolder font size texts, which can be easily achieved by using this HTML tag; you need to optimize your site for both search engines and human consumption. However, this should not come at the expense of your website's aesthetics.
Besides, HTML is the simplest web-designing programming language and every web-developer can easily use this tag without any complication or hassle. Why compromise your site performance by avoiding H1 tags and headings when using this tag can bring about a long term positive impact on your website's visibility and overall page ranking.
As much as content is king, there should be a holistic approach to improving your website's SEO. The use of H1 tag is still very much relevant today, and should always be a basic tool in your SEO arsenal.