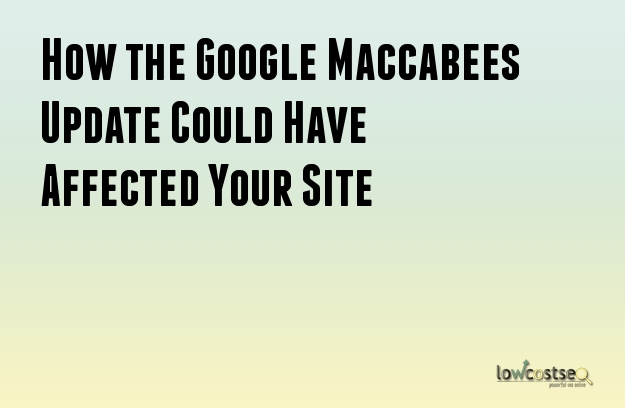 With every Google update, comes the downfall of numerous sites. Google's so good at pushing the boundaries, like it's asking site creators, "Are you capable of catching up with us?"
But with the global competition, only a few can probably do. If you're one of those who got hit, one of the following could be the reason why. With some help from the experienced ones on the internet, here's why the Maccabees update isn't doing you any good.
Your Site Loads for More than 5 Seconds
This is quite obvious actually. Google made a point about fast-loading and mobile-friendly sites a long time ago and 5 seconds is even longer. According to studies, internet users tend to close a website that loads above four seconds. That's a harsh judgement but really, nobody is interested in a slow-loading page especially if there's another option available. Test your website's loading speed from time to time using site speed measurement tools (Pingdom, Site 24x7, Monitis, Gtmetrix, WebPageTest, Website Pulse etc.)
Overusing Ads
Try deactivating your site's ad features and see if it does improve the situation. Many sites were able to make it back to the game by switching off ad-blocks. Hopefully, this is the solution to everyone's problem.
Bad Links and Useless Content
Study what your site is linking to and understand that some contents and links, might not be doing you any good. Run a crawl, use tools that will allow you to get a good view of all the links in your domain, identify the sites that were hit by the update, and work on your keyword permutation. According to an article that partially studied more than a hundred sites hit by the Maccabees update, most of the sites submitted to him had a pattern when it comes to travel sites, e-commerce, blogs and more. We suggest you get a good look at it too.
Rejecting the Dangers of Black-Hat SEO
People who are well-informed about the SEO industry have shared their investigations, theories, and opinions about the Maccabees update. And as they try to discover the root cause, a lot of site owners came rushing in the comment section, hoping that the solution will be delivered at a drop of the hat. Removing the dirty work does not mean overnight recovery. It should not have been done in the first place. The reason the folks at Google drops occasional updates, is to make sure that relevant pages gets the spot they deserve.
There's still room for restoration though, or let's say, improvement. And it's to get on the right track. It will take more than 2 months for Google to acknowledge changes in your links and content too. Depending on what kind of solutions were applied.
While reading the posts of those who were affected by the algorithm change, I found out that some of them are still struggling to recover. In fact, even if you're not using unreliable methods, you can still be affected. As for this update, studying how keywords are theorized to be the cause, is a good start.