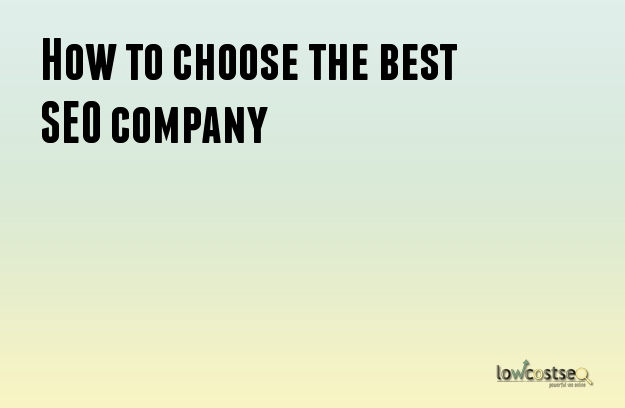 Now you're new to the SEO world and have little or no knowledge in how to pick an SEO Company for your business. It sure is and will be hard work unless you are clever enough to read between the lines and able to pick out the fakes from the rest. You do not want your hard earned money wasted on a sham SEO company that promised alot at first and delivered nothing. We have seen "Pay to play" Best SEO Company" lists on the web and that is such a joke in our opinion. How can you trust a site that allows SEO companies to pay to be listed on the Top SEO lists in UK or USA etc. Is it ethical? No, it isn't and this is why many webmasters get disappointed and end up spending thousands with no results at all. If the best company list is sham then so are many of the companies listed on there. Why do we have to even go further, pick a list of the Top SEO companies and Google them and you will see very little presence online for the most competitive keywords. Hang on a minute, they are meant to be the best and yet not at the top for the highly competitive keywords so what chances have you got with them then? Ask yourself these questions and understand what is right and wrong.
So the question still remains of "How to choose the Best SEO Company?
Firstly IGNORE all TopSEO lists on the web, they are all fabricated and companies pay to get listed on there. Any site that gives you a list of the Top 10 SEO companies is a scam so avoid it. We have been in the SEO line for a while now and cannot understand why people still fall for their antics as there is Google to simply search and see what SEO companies appear at the top and which pay to appear at the top. Sites such as TopSEOs have to criteria at all to rank the SEO Companies so we are unsure what they are trying to achieve by doing this.
You have to look for the qualitative signals which will aid in making the choice about the SEO company for you i.e
- You can check if the SEO Company has any case studies on their site and whether if it is possible for you to speak to a client of theirs to cross check.
-Most companies have testimonials on their sites so do check them and if they are not provided then request for any testimonials as sometimes SEO companies do not display them as a way of safeguarding the client's identity.
-If they display any client logos on their site then try calling them to check on the reputation and you can also Google them too.
-Make sure you check how the site's content is written and see for "Too good to be true" promises, such as 100% Page 1 Guarantee. (There is nothing like this in SEO)
- Check the Keyword rankings of the website and also look at their backlink count and check if the website is safe to use by checking it on sites such as webutation.com. Here you will see if the site is full safe and secure to use or has an security issue whatsoever.
- Talk to them on the phone and ask them what SEO methodology do they use. Ask them the strategies they will implement on your SEO campaign.
We hope the above will give you some insight by now on what questions to ask and what to look out for when choosing the best SEO Company for your onlines business.
Another important point to mention is be honest with any SEO company you talk to, e.g tell them exactly what you want and expect and let them hear out your goals. Tell them about your budget and what you are expecting to get within your budget. This way neither parties will waste each other's time.
All in all, best of luck in finding the right SEO company for your business. Make sure the company you choose is open and transparent about their methods and actions which they will undertake.