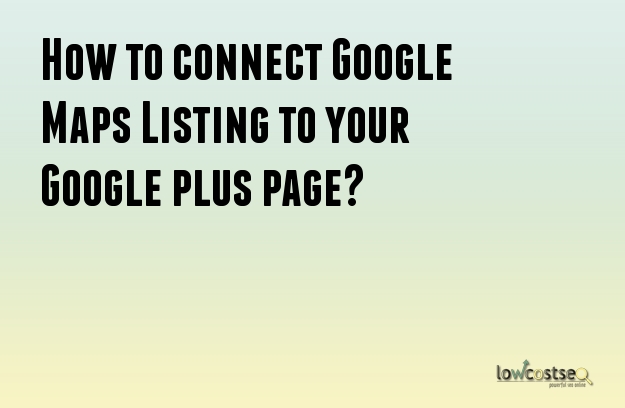 Recently, Google introduced a new ability for those who have or want to create a page in Google+ other than just a local place business to integrate their Google Maps local listing with their Google+ Page.
By connecting the two together, you can carry over addresses, reviews, business hours and more from Maps to the Google+ page. However, these new alterations will be permanent. Therefore it is imperative that when doing this, it makes good business sense.
This is how you connect them:
To start with, you must already have a separate local Google+ page that is validated on Google Maps for your business page, or create one.
Login to your Google+ and select the 'Pages' on the left-hand navigation menu.
Click on 'Manage this page' from the local page.
Choose Dashboard from the top left corner, then Settings.
Navigate to the Profile section, then to "This page will be joined to Google Maps", and then select "Connect a different page".
From the "Link a different page to this location" section, select the page you want to connect to Maps then click next.
Here you will see a list describing the newly-created page that you are connecting to Maps, as well as the Google+ page you are disconnecting from Maps.
Click on Confirm.
The newly created page that is now connected to Maps can:
· Display the verification badge and name from the former local page.
· Display business content such as phone numbers, addresses, etc. as well as reviews of the former local page.
· It will no longer show any prior owner responses of local reviews.
· Existing reviews could take up to a couple hours to show up once connecting the page.
· It will also retain your page's posts, managers and followers and your custom URL, if you've set one up.
· It may even remove prior ad campaigns allowing you to begin a new campaign. All content of the former page will no longer appear on Google Maps.
Your prior local page will:
· No longer be able to show Google Maps.
· No longer be able to display any reviews or local business information.
· Be renamed for the Backup of page names.
· Continue to be displayed on Google+.
· Retain managers from the former local page, posts and followers.
· Retain custom URL of the former local page if one was setup
· No longer display Express Campaign AdWords that are associated with the former page.
By connecting to your Google Maps Listing to your Google+ Page, you can simplify your work load and manage those stacks of G-papers.
As Google seeks to be the authority social network that provides an integrated full-fledged marketing platform for businesses, it is wise for businesses to leverage on this new feature to provide visitors with a complete set of information. Once Google Maps is connected, visitors need not open another browser tab to search for the location of your business, as they can simply access it from your Google+ profile, which will eventually become a one-stop portal for all the information pertaining to your business.