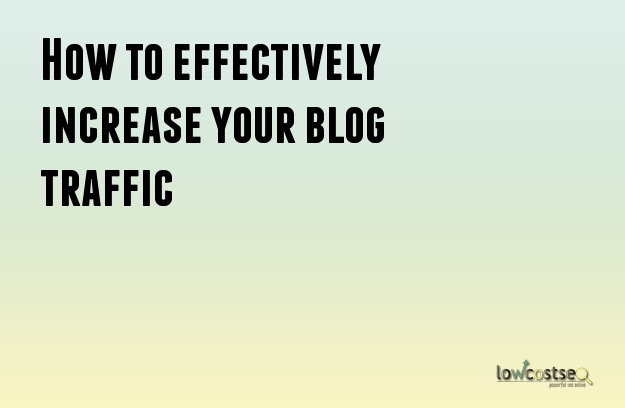 Steps to effectively increase your blog traffic
If you are writing and posting content for your blog from time to time and very less people actually read it then you must be frustrated and turned down. Well in this case earning good income is far from possible. Bloggers or site owners at first don't realize the importance of SEO. This is where everything goes wrong and eventually one quits the online business. If you don't know the in and outs of SEO, then It is always better to have SEO experts work along with you when you are running an online business. This will keep you checked on every stage and put you in the right direction. After all, you want more visitors to come to your site and SEO experts exactly know how to make it happen.
Search Engine Optimization consists of various steps and each of them is important to get to the top of search engine rankings. Below are some of the major SEO steps that you should take to enhance your site traffic and eventually become one among of the best sites on the internet. But remember SEO requires a lot of hard work and time. If you cannot manage all the SEO steps by yourself then consider hiring professional SEO services.
Publish High Quality Content
Do not publish poor quality content on your blog. This can hurt you in many ways. First, your search engine ranking will suffer. Even if you manage to get some traffic in your blog, visitors will stay no longer than few seconds and never come back. This also applies to content that you publish on the directory websites to increase the traffic. Even though you are mainly focused on including links inside the articles or in the Author's Resource Box you need to include quality content in them.
Focus on Niche
Choose a niche that appeals to you. Do not get caught away by the success of your friends doing well in a specific niche. Your blog might not get the same recognition on the internet. It is good to choose a niche that you are interested in or passionate about. This will keep you focused while writing content and keep it unique on the internet. Also do not drift away from your topic of the blog. If you can manage this search engines will love you. What if you are working on a niche that is promising but not in your expertise? In this case, hire SEO services who are experts in the niche that you are working on.
Social Bookmarking
Many think that social bookmarking is a tedious task. But in fact it is not. One can make use of free social bookmarking services such as OnlyWire.com to bookmark the posts on the blog. This is a great way to quickly increase the website authority.
Build a Network
Collaboration with other bloggers is also necessary to promote your blog. Building a network is necessary to promote each other's blogs and generate powerful traffic. It is favorable for your site, if you can find partner sites that already have good search engine rankings. But it is important to choose the partners carefully and their sites should be relevant to yours.