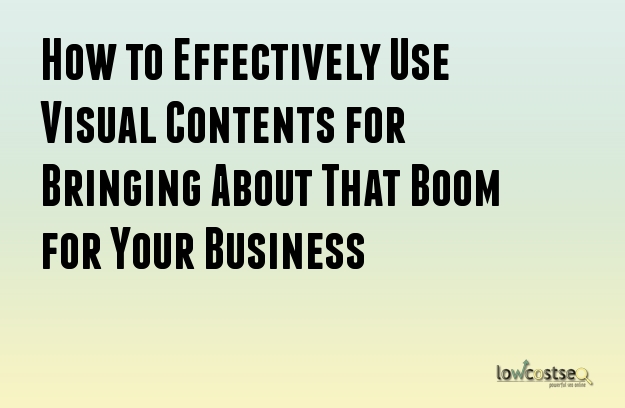 Are you looking for methods and ways to flabbergast the mind of your targeted audience? Do you want your business to create a milestone in the industry? Well, the best way to do it is by following a certain strategy. One of the most effective ways to do it is by presenting your views and thoughts relating to your business in a visual format. Yes, visual content can be an efficient marketing tool for the success of your business. Preparing a standard and innovative visual content will help you to increase traffic in your website.
Preparing the rightful strategy is what should be your first attempt. Thus, in order to help you prepare an effective plan for your visual content here are few tips.
Make Use of Shareable Images
You can provide famous quotations or your own quotations that you feel are relevant to your business. You can also display some frequently asked questions and answers so that you can clear out all the doubts from the mind of the customers. Visually display some helpful tips that you feel will be beneficial for your customers. Share your ideas and views with your potential customers and readers so that you can build your business better.
Share PDFs
You can share various types of PDFs like booklets, guidebook, and eBook. In these, you can share information about your business, products and services. Catalogues and magazines are great ways to visual display your views, information and opinions. Templates and worksheets are some of the most effective visual contents that will provide a clear picture about your business.
Showcasing Your Brand
Branding is an effective way to do brand hammering of your business and to bring about brand awareness. Make use of banners, advertisements, badges, and buttons to increase the brand awareness of your business. Cover images, blog post images, social media images, and newsletter images can also prove to be beneficial for increasing your brand awareness.
Informational Images
For you to bring about brand loyalty it is important that you provide various informational images to your clients and prospective customers. You can visually display your images with the help of infographics, bucket list, tutorials, top 10 lists, mind map, step-by-step instruction, tips sheet, fact sheets and many more other things. Providing authentic information can help you boost your brand loyalty and also increase the traffic proportion to your website.
Print Images Are the Ace of Visual Content
Print images are considered to be the ace of visual content. They can help you to strengthen your brand further. So, what type of print images can you make use of? Try effectively using biz card, punch cards, VIP cards, post cards, swing tags, flyers, holiday cards, and thank you cards. These will generally help you build a stronger relationship with your customers and also create a good impression in the mind of the customers. Giving that personal attention to your customers will definitely build a stronger and longer relationship with them.
Thus, waste no further time and make use of them effectively so that your business can bring about that competitive edge against your rivals.