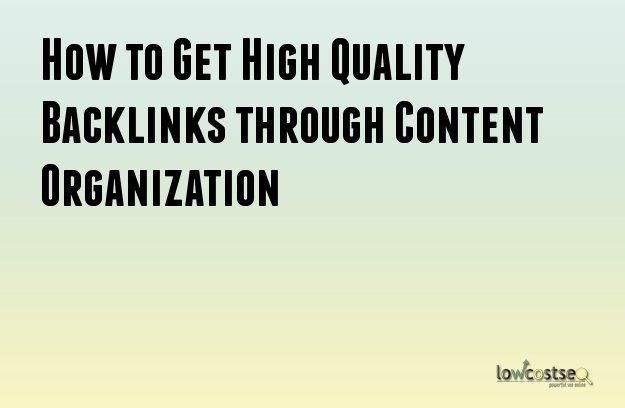 The success of any website is measured in terms of the amount of traffic that flows towards that website. There are many techniques of driving traffic to your site. One of those techniques is the use of backlinks towards your website. A backlink refers to a link from another website that is directed to your site. A steady flow of traffic to any website can be improved by increasing the number of backlinks that the website has. In the recent past, the amount of useful traffic was thought to be proportional to the number of backlinks you get. However, this kind of mentality is gone and, currently, search engines are emphasizing on the quality over the quantity of backlinks you have.
In a nutshell, a quality backlink is determined by the type of site from which the link originates. This link should be coming from a website whose content is of relevance to your website. For instance, the content should be related to the content of your website. High quality backlinks will enhance your SEO and improve your site's ranking on search engines, which has been proven to be true. One way of getting quality backlinks that will help your site is via content organization.
The kind of backlinks you get on your site doesn't depend on the quality of content you have but depends on how the content is organized on the website. You might have gathered all the content necessary for your site and still get very few or low quality backlinks. It is important you know the audience's requirements and, in turn, organize your content relative to those requirements. This improves your site's performance on search results.
In your content organization, begin by identifying your audience and analyzing the content that you already have in store. This helps you know whether the content is relevant to your target audience or not. Your content should be valuable to the target audience by ensuring that the useful resources can be easily retrieved by users without hassles. Analyze your webpages to also determine whether they meet the SEO standards as SEO improves the performance on search results.
After you have organized the content that you already have, the second issue is in creation of new content. Involve professionals in your content creation. For instance, you would require professional writers to write unique articles, researchers to collect data for backing up the articles, employ good web and graphics designers who will design appealing and professional-looking webpages etc.
Finally, you need to create a community page for users' interaction. Users will present their questions and get answers instantly via the community page. The Frequently Asked Questions (FAQ) page will also serve the purpose of providing quick question-answer combinations. This technique is capable of handling a wide range of questions and problems that people face in your industry. Your site will therefore get the interest from search engines as well as interest from users. Shortly, you will be able to realize the power of content organization.
Search Engines have begun to emphasize on the quality of user experience, which means that organizing your content (site mapping) for your visitors will give you an advantage.