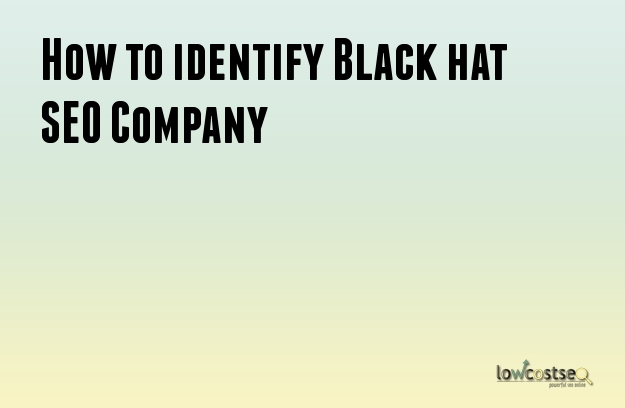 It sure is tempting to find a way or method in which one can rank his or her site at the top extremely quickly. The surge of traffic that you get will eventually land your site in big trouble. Many people have ruined their online businesses by simply ignoring what their SEO service providers are doing.
You must always be in check as to what is happening with your website so that it does not disappear from Google indefinitely. People please understand that Black hat SEO never pays off. It is easier to simply follow the rules and regulations and harder to cheat. Google and other major search engines are constantly working on new updates on their algorithms so that the "honest" webmasters have their sites at the top instead of the ones that cheat to the top. You need to have lots of patience when it comes to SEO as nothing comes easy when you want to rise to the top. There are lots of ways in which Black hat SEO companies try to trick search engines to reach the top but such a victory is always short-lived.
So the question is, how can you identify Black hat SEO methods? And how to avoid them?
Firstly, be wary about those SEO companies that make "to good to be true promises". If they tell you to buy paid links to boost your site to the top, this sure is a red alert sign. We have seen many sites online selling paid links and many people ignorantly purchasing those links and thereby falling in this pit. There are no shortcuts at all in SEO so work with those companies who offer manually created links not paid ones.
Have a look at the reputation of the company that you want to hire. Go through their own site and see if its ranking on Google, read their customer testimonials or ask them for references from real clients that you can talk to. If an SEO company has no presence at all on Google then that is sign too of Google blacklisting them.
Another way is when you see a website whose navigation process is not transparent, they have hidden text on the pages in an attempt to keyword stuff. This is purely Black hat SEO. The most important thing one can do as a webmaster/website owner is to check your reports (traffic). Black hat SEO is simply the use of excessive number of high PR backlinks from non-relevant sites.
SEO takes time and requires lots of patience so if any company promises immediate results then get alerted. SEO takes time and any good SEO company will tell you this right away. Also have a look at their own site's quality, if it is of poor quality then it will surely raise concerns to you as you can understand the difference between good and poor quality.
The SEO industry is a very competitive industry where there are lots of Black marketers offering all sorts of services and promising you page one rankings. No one can guarantee to get your site to page one and if someone claims to have close ties with Google then that's a lie too. Stay away from such SEO companies.
Watch out for those companies that provide PR9 links for a very low price, this is a scam. It does not seem logically right for PR9 sites to simply link to any other sites. Please stay away from these or risk loosing your money. Finally stay away from companies that demand full upfront payment , they are just trying to trick their way into your wallet.
How to avoid them?
Well, there are several ways to avoid being tricked by a Black hat SEO company. First and foremost is to educate yourself on the basics of SEO. Once you understand the concept of SEO, then you can ask all sorts of questions while looking for an SEO Company. This way you'll know if the company is using fair methods or not. You have spent a lot in getting your website ready so do not neglect on the most important part of marketing now. If you have the budget, you can hire a SEO consultant/expert to assess a company for you and their methods used.
All in all, Black hat SEO will get your site banned, de-indexed or penalized to a lower rank on the search engines. The choice is entirely yours!
Digivate has put together a great simple infographic outlining the 14 ways to spot a bad SEO company.