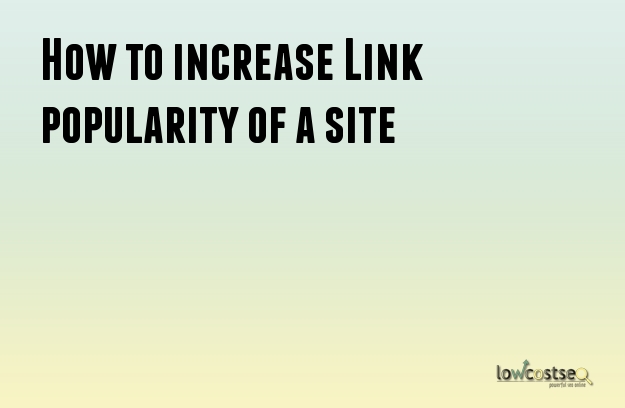 Website reputation is also known sometimes as Link popularity. This is very crucial for a website as it has great importance to the whole SEO process. The term Link Popularity means to make a link or website somewhat important to search engines. Search engines give more importance to a website when it gets backlinks from a higher ranked site. Today I am going to show you ways in which you can increase link popularity of your website but first am going to run with you why one needs to do so;
- The Search engines show popular links in search results first.
- To enhance the website's reputation, you must increase link popularity.
- Your website will increase its value more than the other website.
- Link popularity increases the page rank on Google.
- It leads to the increment of traffic flow to your website.
There are quite a few factors on which link popularity depends on. Its this very combination of all these factors that make a link popular to search engines. As a webmaster, you must follow some techniques in order to make your site's link popular on search engines. Here are the techniques:
- Place your site's keywords in the incoming link
- Place your site's link as reciprocal link to similar sites
- Make sure that you do not keep a reciprocal link of another site in your homepage
- Always try to link to a higher page ranked site then your own.
- Try to increase the internal links with the use of anchor text. Make sure the primary keywords are used in the anchor text.
- Use no-follow robot tag for unsecured links.
-Avoid keeping more then 29 links in each page
- Use the no follow tag in the site's comment section which will protect spam links and enhance the website's reputation
- Once again create a higher page ranked do-follow links for your site. Quantity is not a factor, always focus on quality.
- Finally, do submit your site's link to RSS Directory, Social bookmarking sites, Social media site, Article sharing site, Image sharing site, Blog sharing site etc.
Here is a simple image from Searchengineland outlining the components of Link popularity and the relation they have with content generation.
If the above information has been helpful to you in any way then let us know about your feedback on it.