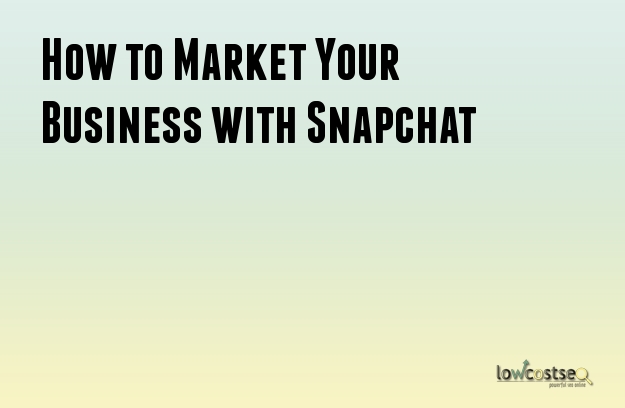 Social media marketing has certainly become an effective way to promote your brand and products. However, it does involve selecting the right social network or tool for the purpose. While Facebook and Twitter have always been the primary choice for businesses, there are new ones like Snapchat which can be just as beneficial.

Why Choose Snapchat?

There are quite a few reasons for Snapchat being a viable social network for your marketing activities. Many wrongly believe that Snapchat is not suitable. After all, Snapchat is a messaging app where short videos and photos can be sent to people. These photos and videos will remain viewable for up to 10 seconds before they are automatically deleted permanently. Nonetheless, stats show that it can be an excellent marketing tool.
400 million snaps are sent every day with the app
The user base of this app is mainly female with around 70% share of the user base.
Snapchat is the fourth among all the social media sites in terms of usage.

Snapchat Marketing Ideas

Even though Snapchat has some unique restrictions in place for the messages, there are still ways you can leverage the platform to your benefit. Here are some marketing ideas that you may implement.

Just Say Hi: Saying hello or hi to a new follower may seem pretty simple but it can be a powerful way to becoming relevant. After all, everybody likes to receive a hello even if it is from a brand.

Building up Followers: An excellent way to increase followers is through rewards. Reward your new followers with freebies. You can also ask your existing followers to ask their friends on Snapchat to follow you. Tell them to provide a snap as proof. When they do so, reward them with freebies.

Announce Flash Sales: Whenever you host a flash sale, you can send a snap to all of your followers to announce the fact. You can also send them a coupon or a discount code which they can use during the flash sale.

Fast Snapchat Responses: Whenever people send you a snap, make sure that you respond immediately.

Product Sneak Peaks: Send snaps of your new product to increase the interest in the new product that you are buying. You can send both photos and videos for this purpose.

Tips for Success

Make use of the following tips to become successful with your marketing campaigns in Snapchat.
Speed and Memorability: Snapchat is unique from the other social networks because the snaps last for a limited amount of time. You will have little time to make an impression so use that to your advantage. Respond to snaps quickly and make them memorable.
Showcase Your Personality: Snapchat is all about having fun. Make sure that your followers enjoy being with you on Snapchat by showcasing your zest and personality.
Understand Your Audience: Snapchat is mainly used by young people. Therefore, your marketing tactics should be modified to suit the unique tastes of this crowd.

When used properly, Snapchat can be just as powerful as any other social network.