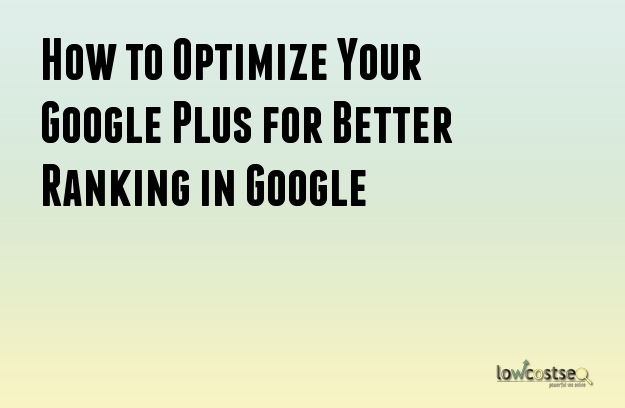 Your Google Plus page can be a valuable resource when you are trying to get a better rank in the local search results. After all, Google does place a lot of importance on pages listed in Google Plus while deciding which websites to rank. By concentrating your optimization efforts in Google Plus, your business will get more visibility when searching for services provided by you. The benefits can be significant.
The Benefits
These are the benefits that you can get if your Google Plus page has been optimized for your business.
Higher rank in the local pack results in Google.
The local carousel will display your business.
A pin for your business will be provided to show your business location on the local map.
A knowledge panel for your business in going to be displayed on the search results pages.
There are a number of tips and tricks that you can use to get the above mentioned advantages.
The Things You Should Do in Google Plus
The local page for your business should be verified.
Ensure that the profile contains all the information about your business.
The official name of your business should be used for the Google Plus page. It should be the same as the one displayed in your website. Consistency is crucial.
The description of your company should be detailed and complete.
The NAP displayed in your profile should be the same as the one in your website. In fact, ensure that your NAP is the same everywhere in the internet.
Each city or area will display its own local searches. You should have a physical presence area where you want to rank in the form of an official address.
If the address of your business contains a number of a mail box or a suite number then those details need to be placed in the second address line.
Mention the working hours of your business.
If you have departments in your business that function separately, you should create specific pages for them. The NAP for each should also be mentioned if they are different.
Your business may provide services in the customers at their location. In those cases, select the appropriate option while adding your address. Your original address can be hidden.
Separate webpages can be created for each location that you provide your services. Links to each of these webpages can be attached accordingly in the profile.
There may be other local pages for your business that you have not created. Delete these pages after claiming them.
Do not forget to request your customers to leave their reviews in your local page.
Your competition may have created spam filled pages. You can report these pages to Google to eliminate unfair competition.
Avoid putting in phone numbers of call centers. Always use your own business number.
Select all the categories that are relevant for your business.
Creation of a proper Google Plus page has become an essential part of SEO practices. Thorough optimization of this social network profile can help you achieve more customers through your website and locally.