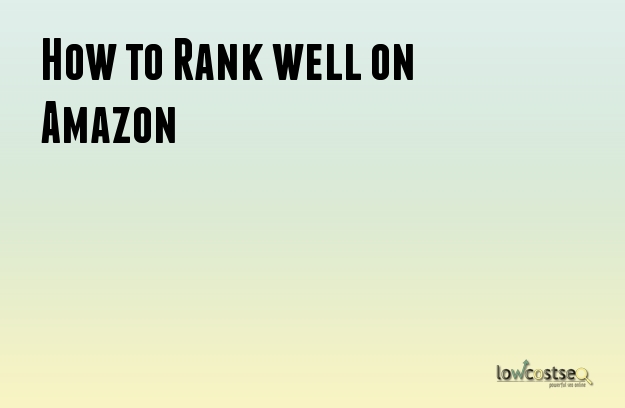 Amazon is no Google and therefore, we should not care about ranking high on it right? Well, probably you are wrong. Contrary to what you believe, Amazon has seen a massive and somewhat unthinkable 73% surge in product searches whereas the searches on Google Shopping have been flat for quite some time. What is all the more interesting is the fact that Amazon is considered as the world's largest product search engine; bigger than Google when it comes to product search volume.
So, quite understandably, ranking high on Amazon product search is crucial for small retailers. Amazon and Google are definitely different as their business models are vastly different. Google considers several factors to determine the quality of a website so that people find the search results more effective and this will eventually lead to more search on it. Whereas Amazon believes in selling as many products as possible and therefore, it considers conversion rate of different products as the most vital factor and rank them accordingly. The higher the conversion rate the better the ranking will be.
So, if you want to rank high on Amazon, you need to have a strategy otherwise you will finding it really hard to outsmart other retailers who are trying to sell their products via the same platform –
Follow the Rules
Choose the search terms on Amazon very carefully. Only select those keywords that are related to the products you are selling. Key phrases that people search to find products like yours should also be included in this list. Sales History, selection, availability, price etc are some of the key factors that Amazon also takes into consideration while determining the ranking of a website. Usually products with better sales record tend to rank high.
Amazon is out there to make money. So, if you sell more and more frequently than others, it will reward you with higher rankings and better visibility. Competitive pricing, good quality images, great product copy etc also contribute to better visibility on Amazon. So, work on them.
Structured Data
Search Engines always encourage people to add structured data on their websites and the same goes true with Amazon. Amazon has some predefined fields that need to be filled out properly. So when you are filling out these information, you need to make sure that you are following the rules precisely otherwise your hope to rank high will fall flat on the ground.
Make it Conversion Friendly
The purpose of listing your products on Amazon is to sell as many products as possible and that means you need to work hard on your listing page to make it more conversion friendly. This can be done by adding quality images, assuring the audience they are getting quality products and by writing catchy ad-copy.
Try to include keywords that visitors are most likely to use while searching for specific products and also try to make the content readers' friendly.
However, the most important thing of all is good seller's ratings. If people are giving bad feedbacks on Amazon, it will be the end of your prospect. So, make sure that you are doing everything you could to offer the best quality and service to your customers otherwise ranking high in Amazon would not help you much.