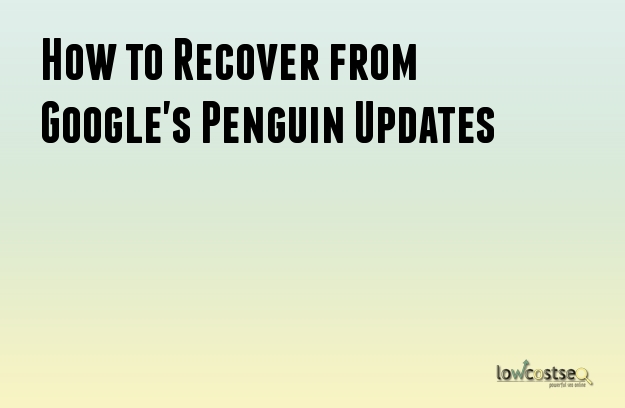 Google Penguin was the major algorithm update of the search engine which was launched late in April and affected a number of businesses, websites and the SEO industry. If you want to escape a Penguin ranking penalty, here's what you need to do:
Create a List of Backlinks: This list can be built with the help of various tools including Open Site Explorer, Ahrefs, Majestic SEO and Google Webmaster Tools. It is best to draw the reports from about 3 tools to cross reference your data. If you collect more data, you can ensure that you are not missing out on the backlinks. From the list, create your own spreadsheet in order to stay organized. It also helps you in the future if you are keen to monitor the backlinks to ensure you are not penalized again. Most tools contain export features; so you can start your own spreadsheet.
Analyze the Links for Quality: The reason for a penalty could be too many unnatural links that point back to your website, but it does not mean that all your links are bad. You can figure out the links which are coming from spam sites. Here are the links that Google scrutinizes more:
Links from non-indexed websites
Links from low ranking websites
Links from untrustworthy and irrelevant websites
Blog links
Site-wide links
Disproportionate use of anchor text
Forums and article directories
Keep a Tab on the Links which Need to be Removed: You need to create a master spreadsheet for all the links which you need to maintain and the ones that are to be removed. The type of links which you want to build will change with time. This is why you need to have a list of all your links and do a link audit. This is a unique idea for ensuring a clean profile. Include different details such as URL, changes made to the link, webmaster contact information etc. If you are ever affected with a manual action penalty, maintaining the list will come in handy when the time comes for recovery.
Start Disavowing Links and Speaking with Webmasters: Once you are aware of the links that you are to remove, you need to remove them actually. The best way through which you can proceed with this is by reaching out to the webmasters and asking them to eliminate the link. This is entirely acceptable. You will be amazed at the number of webmasters that will get back to you. After attaining a point where you don't think that you will get any further responses, you can start using the Google disavow tool. This should follow the link removal requests. The Google Disavow Links tool can be suitable in this context.
After recovering from the Penguin Penalty, you need to ensure that you are not penalized again. You need to follow only the white hat SEO practices and need to keep track of your links actively so as not to get penalized.