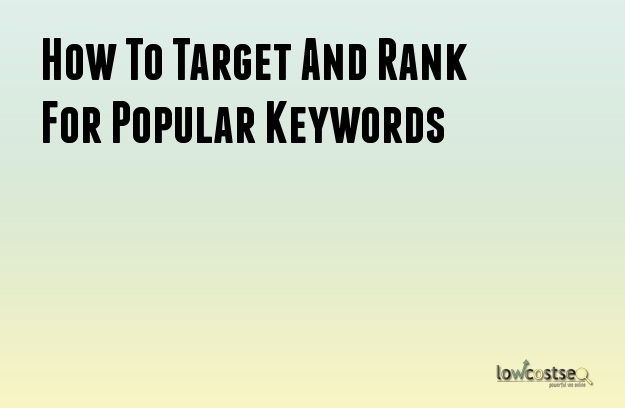 Every SEO agency is familiar with long-tail keywords. These are the search queries that, while limited in search volumes, make up most searches. Target these and you can gain plenty of organic traffic.
But what about the larger terms?
It's generally understood that long-tail keywords are easier, because there's less competition. Businesses also like them because they represent users near the end of the sales funnel. Yet, to target all your potential customers and ensure as much traffic as possible, there may very well be situations where you need to prioritise some stronger, more generic queries.
Beat The Competition
The first thing you should do, assuming you know what keywords you want to target, is to see who is above you. These are the people you have to beat. A quick backlink audit will help you compare your current standings with all of those above you.
After this, you determine what the most popular content is and why it is so popular. A common method of achieving this is the skycraper technique. Take something that already exists (and ranks above you) and create something better. Then, you can use this content to try and leverage better links, or even replace the existing links of the now weaker content.
So, how well does this work? When done correctly, it can earn you the number one position. In a case study over at Moz, Pipedrive's case study shows how they earned the top spot for "sales management" - a keyword with almost 10,000 monthly searches.
The article they created pays careful consideration to keywords. The title uses broad modifiers to catch more traffic and searches. Even the H2 and H3 tags are used carefully, all starting with search terms very similar to the target word.
https://d2v4zi8pl64nxt.cloudfront.net/case-study-ranking-high-volume-keyword/58f6a31a57d7f9.28576945.png
However, a key point of note here is that the team actually went back and removed instances of "sales management", arguing that the content was oversaturated and appeared less natural. Once fixed this resulted in a big upswing in traffic.
https://d2v4zi8pl64nxt.cloudfront.net/case-study-ranking-high-volume-keyword/58f6a32593ca13.70254014.png
While this can work, you should be aware that a key part of the skyscraper technique lies in building links. Google will easily catch the keywords, but its the backlinks that ultimately help push up the rankings.
Prioritise Your Website
Once you have some content you want to push – and the keywords you're pushing for – one way to give yourself a helping hand is to audit your own website. Consider the following questions:
Is Google able to effectively crawl the page in question?
Are any other pages fighting for this keyword?
Can you rel=can any older pages – that are relevant - to add link power?
In his case study, Nick Eubanks at IFTF talks about helping a hospitality site jump from 210,000 to 306,000 organic monthly visits. That's an increase of 46%
https://imfromthefuture.com/wp-content/uploads/2017/03/islands-rankings-1024x380.png
A big part of this involved auditing and optimising the website. This ensured the new content was the only page catching the targeted keywords. In other words, when Google and other search engine's are less confused while crawling, the final results on search engines will be stronger.
Make It Shareable
When it comes to gaining backlinks, there are two main methods of doing this. The first, as already mentioned, is to seek backlinks yourself. This includes time-intensive actions, such as asking webmasters to update older links, reaching out to platforms for opportunities and writing guest posts.
The other method that can also work is to make something that people want to share. Sure, this can still require a little outreach, to ensure people become aware of your content in the first place, but it represents a method of drawing links organically.
It also works really well on social media, although this is more about extra traffic than generating high quality links.
Brian Dean at Backlinko often uses something he calls guestographics, which is based on the strong argument that, to get the most success with external posts, you need to add significant value to that platform.
Brian argues that an infographic isn't enough, regardless of the content, so he offers small guest posts alongside it. Is it enough to get the graphic and links established? The rise in linking domains would suggest it is.
http://backlinko.com/wp-content/uploads/2013/07/referring_domains_increase.png
Finding The Right Method
As you can see, there are a few ways to get yourself established on particular keywords. In each instance, some of these methods might work, while others are less successful. Finding the right strategy each time is the key secret behind many SEO companies.
Not everyone, for example, will want an infographic. Some industries prefer white-papers, case studies or other lengthy articles. Playing to each niche's strengths will certainly help ensure the content you create is relevant. In turn, Google will notice this and help it on its way up the search engine results.
There's also the challenge of scale. The bigger the keyword is, the competition you might face. Even with smaller keywords, you might find some longer, more established content has taken the top position, with a large backlink directory that you need to compete with.
Here is another article from Floship that talks about boosting ecommerce sales. Click here to see it.
Ranking high for a large keyword – rather than just the long-tails – is doable, but it is never going to be easy!