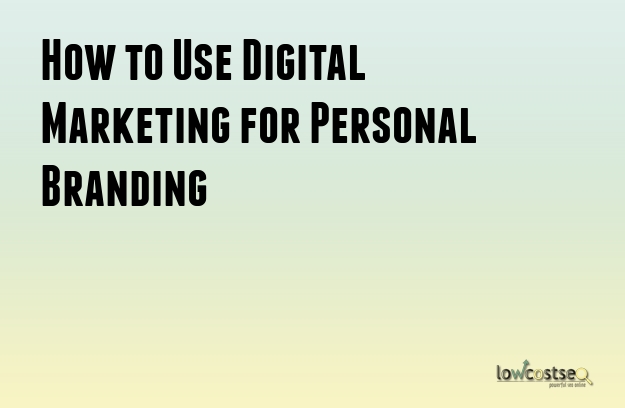 In today's world, digital marketing has made it quite easy for individuals and businesses to promote their cause or various products and services. With social media, emails and a well-designed website, you can engage your audience on difference channels and increase your reach too. According to a report, there are about 4.66 billion people who active use the internet across the globe.
If you know where to find your audience and how to effectively get their attention, you can pitch yourself to a wider audience successfully. This could help you build a personal brand which connects to people and help them relate to you.
These are a few ways that you can make use of digital marketing for personal branding.
Optimize Your Website for SEO
Your website is critically important to creating the right impression on the audience. It's how people will learn about your story and form an opinion about your personal brand. By optimizing your web page for SEO, you can not only influence your audience positively but increase credibility as well.
Think of it this way. When people search for your name or are looking for experts in a certain industry, they expect the relevant information to be within the top search results. So if you optimize the website for search engines like Google or Bing, you can boost its ranking and visibility. With search engine optimization, your audience will be able to view the web page within the first ten results of their query.
They will be able to trust you and your expertise as well. SEO is one digital marketing technique that you can use effective for personal branding. It will help people become familiar with your website and the visual elements of your brand identity such as your personal brand logo, tone of voice and values.
Leverage Various Social Media Platforms
In 2020, it was reported that the number of people using social media networks globally have gone up to 3.6 billion. This means that you can engage large groups of people on channels that are relevant to your niche or where most of your target audience is located. You don't have to become an influencer or an internet celebrity to establish a personal brand on social media.
If the content you are putting out is relatable to people and aligns with their interests, then you can attract a high number of followers on various networks. Take the example of Chiara Ferragni. The life fashion blogger and designer has created a very impressive personal brand in the digital world with a following of more than 23 million on Instagram.
Her consistent messaging, tone and brand voice on her blog and social media pages, Ferragni has created an impressive and recognizable personal brand. Elon Musk is one other case that you can consider here. He has leveraged the social media network, Twitter, for personal branding and has managed to connect with people effectively.
Image Source: Instagram
His name might just pop up in your mind when you hear or come across a discussion about space exploration or Tesla. With 56 million followers, Musk is almost a bigger brand than all of his companies. In personal branding, social media is one digital marketing tool that can bring you a high return with minimal investment.
Image Source: Twitter
You cannot deny the power of content marketing in personal branding. It is an incredibly useful digital marketing strategy that can help you build a strong personal brand. By pitching guest blogs to influencers, brands or industry experts, you can attract a wider audience and bring more people to your web page as well.
This could generate high traffic and increase the visibility of your brand as well. Look at it this way. When people are following the link of your blog on other websites or social media pages, they may be interested in searching for more information about you. So it could lead to them searching for your website or username on Facebook or LinkedIn.
With high-quality and relevant content, you can engage more people and make sure that they remember your name and persona.
This is actually a very good way to interact with the audience directly and create awareness among people about your personal brand. If you already have an email list, you can reach out to the people and share your expertise with them. According to a study, the average open rate for emails is around 18 percent.
So with an attractive subject line and messaging, you can get your audience to find out what you have to offer and even follow through on the email. If you have published a 'tips and tricks' blog about a particular subject, you can include that in your email and keep updating your loyal followers.
In case you need to build an email list, you could include a sign up option on your web page and encourage visitors to leave their contact information. Offer a free e-book or a discount on a ticket to your virtual event or webinar.
Wrapping Up
These are some digital marketing techniques which you could use in or for personal branding. Ultimately, it depends on how engaging your content is and the perception you are trying to create. So your online presence should be able to make you stand out and represent your represent your brand image in a positive way.
Kris David
A student by day and a wordsmith by night, Kris David works as a freelance blogger. He is currently pursuing a degree in Communications and relying on his freelance gigs to jumpstart his career in journalism.