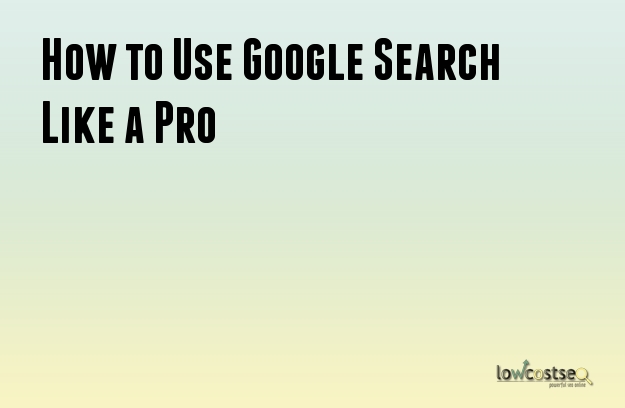 Millions of people use Google every day to perform searches. If you are one of them, you may have noticed that sometimes you do not get the exact searches that you were hoping for. You may not know this, but this excellent search engine offers a number of hidden tricks to help you make your searches more accurate. Some of them you may already know but there are many such options.
Searching Tips
Google searches are a part and parcel of the daily life nowadays. Unfortunately not many are aware of the methods by which they can refine their searches. Instead of searching how to Google, you can make use of the following tricks to improve your searches and save yourself from a headache.
Search Operators
Searching for exact phrases: Quotation marks can be can be used to locate an exact phrase in websites.
Excluding searches: In many cases, certain words can have different meanings. In which case, Google will display searches pertaining to all of the meanings. In order to eliminate these unnecessary searches, you can use a hyphen before a word. For example 'love -song' will eliminate all song related search results from the page and display other results pertaining to love.
Search inside a particular site: In many cases you may want only searches that exist within a particular website. In that case, you can use the following syntax without the quotation marks: "<search phrase> site:<website URL>".
Finding related content: If you are looking for websites that has content similar to one you are familiar with, the following syntax can be used. Of course, do not use the quotation marks: "related:<website name>"
Searching for particular words: In order to locate webpages which have the all the words you are looking for type in 'allintext:' before typing the search words. Using 'allintitle:' will limit the searches to the titles of the pages.
Wildcards: You may have forgotten some of the words in a particular phrase that you are searching for. You can simply use an asterisk in the place of the words that you have forgotten.
Multiple option searches: Using the capitalized OR word will command Google to search for either of the terms that you have entered.
Limiting the location: Google tries its best to offer you search results pertaining to your current location. If the searches are not localized enough for you, you can use 'location:' before the name of the area. The syntax for this would be: "<search text location:<area name>"
Cool Search Features
Apart from various search enhancement features, Google has also implemented a variety of tools into its search engine.
'Weather <city>' will show you the weather of the location specified.
Stock quotes can be seen by simply entering the code of the company.
The scores of a sports team can be viewed upon entering the name.
Putting in an equation will open the calculator and solve the equation automatically.
Flight statuses can be checked by entering the flight number.
These various search functionalities make Google a complete search engine and enhance your searches.
Have you ever wondered how exactly the Google Search Works? Wonder no more and see this fantastic infographic that shows 8 steps by which Google delivers its search results.
Source: Tham Yuen-C & Quek Hong Shin