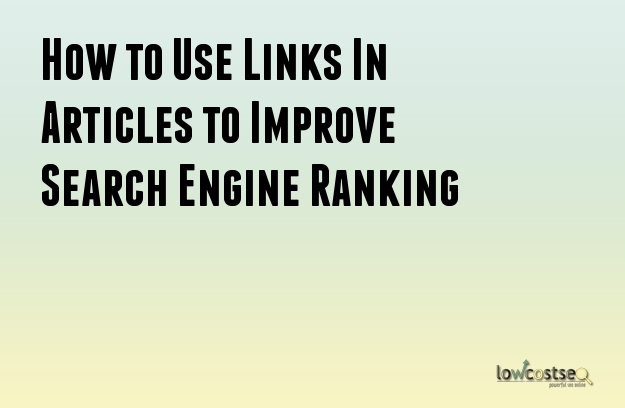 Many webmasters don't understand the power that linking within your article has. Of course, receiving links to your article is more important, but linking out to other articles will provide a search engine boost. This boost can be the difference between rank 3 or rank 1 for a keyword so it's vital that you get this right.
There are two types of links you can utilize within your article. You can link to other websites and to content within your own website. Both techniques should be utilized in order to maximize your SEO ranking for your articles. First, we will discuss linking to content within your website or "interlinking."
Interlinking your articles is a very valuable tool for effective search engine optimization. Though it's not a huge factor, it can definitely provide bonus points when it comes to ranking higher in the search engines. In order to receive these "bonus points" it's vital that you interlink your articles in the correct fashion.
You shouldn't link to too many articles. Short articles should have 1 to 2 links, medium articles should have 2 to 4 links and large articles should have 4 to 6 links. When you link too much your article starts to look spammy. When your articles look spammy, search engines will rank it lower or not rank it at all.
You should interlink to related content when it makes sense throughout the article. In addition to helping your article rank better, it will also make visitors stay on your website longer and reduce your bounce rate. It's believed that Google and other search engines take these two factors into account when ranking websites.
When you link to external websites, there are a few things you should keep in mind. First, you should always link to authority websites in your niche. Search engines look favourably on quality links that are related to your article's content. The second thing you should keep in mind is anchor text. You want to include the keywords you wish to rank for in the anchor text for the external link. It's recommended that you only link to 1 or 2 other websites in your article. Try to limit this as over doing this process will only be detrimental to the success of your SEO campaign.
When you use links effectively in your article, your article will be more valuable to readers and will rank better in the search engines. It's very easy to add appropriate links and the benefits are well worth the extra work. If you need more help and guidance on how to write effective content, be it blogs, articles then contact us for our impartial advice on how links can be used effectively within your content.