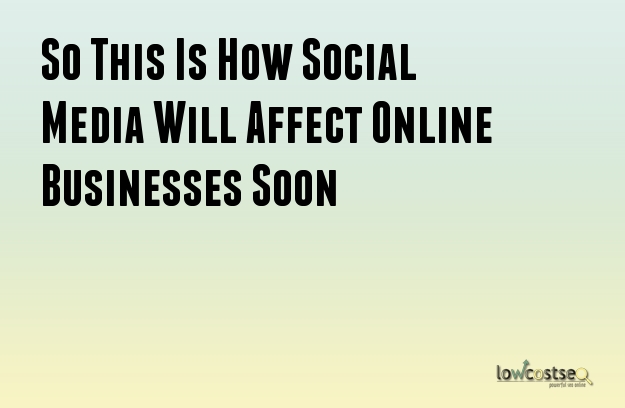 Social media is not just a medium used to bridge the gap between prospects and marketers anymore. It has transformed that way businesses today interact with their target audiences and customers online. The current social media platform that you see has evolved to become a form-influencer market. This is how the current market research and study reports hold the social media when it comes to evaluating its performance in terms of an influencing tool –
Social network users have increased to 2.13 billion (in 2016) from the 1.4 billion increase (in 2012)
74 percent of the customers today rely on social media to make their purchasing decision
90 percent of the consumers trust peer recommendation on social media
30 percent trust display advertisements
8.5 percent of the traffic that some sites are generating, comes directly from social media

The stats mentioned above not only give a renewed hope but also arouses some amount of curiosity to look back and find out the possible changes that will be trending this time.

With constant innovation, social media communication has improved. This has also brought about some change in business strategies as well. Let's take a look into the key changes that are affecting the way businesses communicate with their clients in social media today –

Advanced Real-Time Collaboration

As the number of social media users increase online, live-stream updates will soon spread out faster. This is because; people are now developing the habit of posting updates that give voice to their concerns constantly.

Improved SEO

There are 88 percent of users on the social media, who spend their time reading online reviews and purchase products. The emergence of this kind of behavioral change will lead marketers to pay more attention to tools and strategies related to engagement, marketing and even retargeting.

Wider Content Marketing

Social media platforms have made brand recognition to spread faster. Businesses can now generate bulk customer engagement rapidly and swiftly. All these are possible thanks to the social media, which is now the holder of a large audience base. Careful implementation of the right content marketing strategies like blogs, infographics, Promotional ads, and videos can bring maximum ROI faster.

Mobile Media Optimization

In the last four years, mobile has become an essential part of a customer's overall shopping experience. Social media now draw parallel lines to mobile e-commerce. As already mentioned above, most of the websites have traffic flowing directly social sites. Social media plays an already big part in influencing mobile e-commerce. Keeping this mind, websites should integrate social media buttons in their web design layout. Apart from this, they must also make sure that their website is mobile friendly so that customers coming from social media sites experience a smooth gate-way to the landing page.

Social media marketing, today, is a powerful marketing medium that can help businesses leave a powerful impression online. There are plenty of new opportunities that can help business marketers gain a wider outreach online. So, boost your social media marketing strategies to make the most from social media presence today!
Image Courtesy:
blog.bufferapp.com