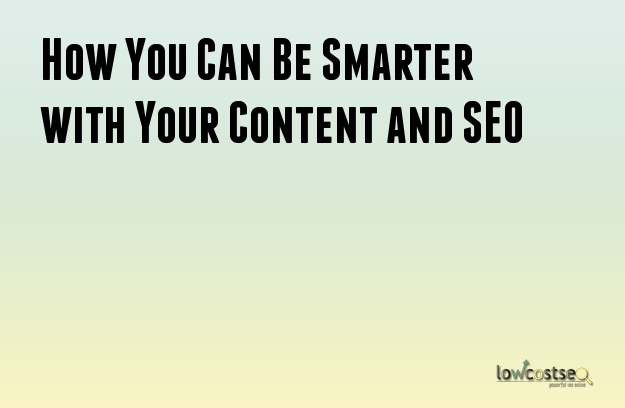 Google may have modified the search game for the last five years, but content remains its vehicle to draw consumer engagements, interactions, experiences and conversions.
At least 41% of marketers believe their organization is transparent on efficiency and success in terms of content marketing program. Marketers may not lack confidence in their efforts, but only 20% of B2C and 50% of B2B content earns an engagement. That's how effort and resources are wasted when investing in content.
Below you will see how the SMART framework can apply search engine optimization in your content.
Know your Audience.
You need to know your consumers with the keyword research you provide. You should be ahead on knowing the real purpose for them to search your keywords. You must try to comprehend the course of action they will take. And you must understand why you are writing for your audience.
Observe possibilities through topical research.
You must know how your competitors work. Your content must be comprehensive and direct to easily attract users into your site. You must have a clearer picture or bird's eye view for searches that direct your consumers to your site. For things you do not know, always be ahead of your competition.
Choose content formats wisely.
You need to know what message to illustrate, how to convey these to your audience, and what good platforms to use to post them. You must have a huge number of content to incorporate to the media including images and videos to present your website.
Choose the best metrics that align with your business goals.
You must write a true story about your business; just enough to convey your audience and have them interested in your products. Let the content turn into conversion and sales. You can also do some content that will attract your business to other businesses as much as individual customers as well.
Use search engine optimization as a core component of content creation.
You need to improve your visibility online that is why you need search engine optimization. You can use techniques that will optimize your tags, meta descriptions, images, subheadings, text using existing SEO standards. You need to stay on top of search engines so online customers can easily see your website.
Optimize for activation across multiple channels.
You may prefer social advertising in powerful social channels such as Facebook, Twitter, Instagram, LinkedIn, YouTube, Google+ and Pinterest. There are many audiences to find in these platform and these increase chances of your website noticed by users. You can post attractive and interesting ads day by day. You can also prefer paid subscriptions for better views of your website and products.
Don't' forget email.
If you already have a good number of consumers, send them electronic messages about your latest products and how it can benefit them. Many of them want to hear from you especially if they patronize your products. You can also emphasize your brand and encourage them to avail more.
SEO standards may change from time to time, it has to be updated to draw more traffic to your site. Actually it's the best thing you can do to make your website recognized in search engine. Note that there are millions of site offering similar products like you do. So stay ahead with competition through SEO.
Content Writing for SEO
A blog with educational information can do wonders for your website. Content writing is widely regarded as one of the most effective ways to increase organic traffic to your website.
So in a bid to optimize your website for Search Engine positioning, how do you create content for Search Engine Optimization (SEO)? There is a plethora of information related to your niche online, with your business rivals consistently creating content to engage and attract readers. How can your articles stand out from this sea of repetitive information?
The key lies in creating actual value.
A SEO article can be written from various angles. When your sole aim is to hard sell your services/ products, readers will be put off by the intense keywords stuffing and the numerous mentions of your company name. But if your intention is to create value from which you hope to portray your competence and in-depth knowledge of the subject, your products/services will be sold on its own.
Here are three factors that Lowcostseo opine are essential to form an excellent SEO article:
It must be well written with a style or personality.

Imagine an article filled with grammatical errors, or when the constructed sentences do not make sense. These writing errors reflect the business's sloppiness, and readers will then translate this as an attribute of your company.

Do you realize that people with distinct personalities often have crowds around them? Do not let your articles drown in the sea of dullness! The tone of the article is important in leaving an impression, which is the ultimate aim of marketing.

It must include relevant keywords or phrases

People would normally use a certain range of keywords or key phrases when searching for information on a certain topic. For example, a common key phrase in the weight loss niche would be "how to lose weight fast".

While ensuring the smooth flow of the article, it is imperative to also have relevant keywords or phrases in your content so that Search Engines can analyze them to determine the subject of the page. Search Engines have complex algorithms to rank websites according to search terms, with the sole aim of only reflecting quality information (not plagiarized content) on their search results. When understanding this objective, it is only appropriate to assign a reasonable density of keywords and phrases to your articles, with the sole purpose of providing value to your readers.

The recommended keyword density is 1-3% (occurrence of keywords / total word count).

It must have depth

Imagine if you are reading an article that teaches you how to lose weight, and the two stated methods are exercising and eating healthily. What would be your first thought?

Use the content to display your knowledge of the subject. Note that only fresh and in-depth information can consistently attract readers to your website. Think of your business' blog as a book, where readers are enticed by the quality of your content to visit it regularly in order to learn more about the subject.

You must be thinking, "We don't have the time to create content!"
It is common nowadays for businesses to outsource their content writing needs to SEO companies with such services. A good SEO company has the expertise in knowing what topics to write on, and as well as the keywords or key phrases to include. At Lowcostseo, we offer such writing services at affordable rates to allow you to focus on your operations and at the same time, able to post well-researched and informative content on your website to generate online traffic. Check with us today!