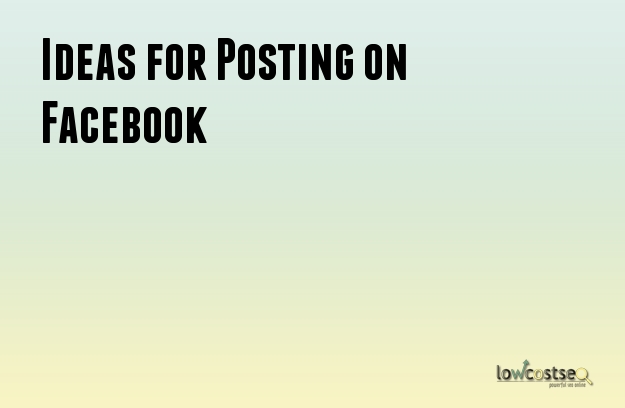 Being a popular social media network, Facebook can be a valuable tool for your business. In order to make the most out of this social media platform, it is important that your posts garner a lot of attention. There are a number of ideas that can be implemented so as to make your posts more engaging in Facebook. They can help your reach a lot of customers. You will not have to spend money in creating ads to be displayed by Facebook.
Post Stories
People love to read and enjoy stories. They are also more likely to remember them than just plain information. You can share stories from your own life in Facebook. You can even draw stories from your experience in running your business for this purpose.
Posting at the Correct Time
By posting at the correct time, you can ensure that your posts will be viewed by a majority of your customers. However, it is not possible to find out the time unless some experiments are performed. You can easily do so with the help of Facebook Insights. Make sure you post when the majority of your customers are online.
In some cases, it might actually be better to avoid the peak times for posting. Most businesses tend to post during those times which mean more competition for your posts. Your customers may not be able to get your post on the news feed during those times.
Use Friendly and Personal Posts
The fact is that people do not like to interact with a corporation. They would rather interact with something more human. If your posts are of a friendly nature then your customers are bound to love it and engage.
To achieve this end, you can post photos from events hosted in your office. Behind the scenes information and photos do remarkably well in getting the attention from your followers. If possible, you can even post selfies. However, ensure that these posts do not make your company feel less professional.
Thoughts and Quotes
You can easily share quotations from famous people or some random thoughts that might have popped into your head. In many cases, your followers are likely to find them interesting, informative or humorous. It will help if those posts are related to your line of business.
Ask Questions
If you want your followers to engage, then an easy way would be to ask them questions. You can make short quizzes and fill in the blanks. Ask your followers to reply and you will find most of them interacting.
An alternative method would be to ask your fans to decide matters related to your business. You can easily ask them if they would prefer a new logo or a new website. You may even end up getting useful information about product features from them. People love to be a part of something important.
One thing to remember about posting on Facebook is to be consistent with your posts. Post on a regular basis so that your fans can keep interacting with your business. Below is a great infographic by everzocial outlining the best days to post on facebook. They have segmented it into industry wise as we all know that all industries are different in many ways so posting on facebook will have different times too.