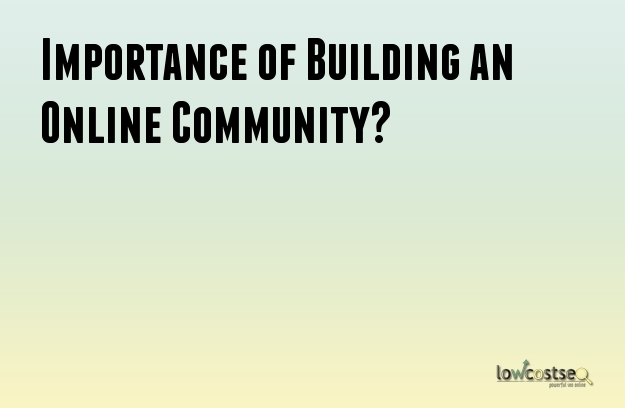 Branding is a method of marketing that helps any business to strategically place itself as the only solutions provider to its prospective clients. In the modern business society, it is essential to build an online community for your brand if you are seeking to reach out to people outside of your business's physical reach. This is very important for your business in the long run for a number of reasons.

Firstly, building an online community helps develop customer loyalty. They will be able to identify with the brand and even defend it since they have some kind of psychological attachment to your business. Such people will go to the extent of sacrificing part of their personal time to help build your brand or business, contributing to your brand's mission.

Secondly, having an online community will also help spread and increase product knowledge among the online community members who rarely have the chance to watch the adverts on television or read the papers. By constantly updating information regarding your range of products on your online platform, you help develop an informed customer base that could translate into sales. It will also help increase brand advocacy among your clients, as you will have a strong team of brand advocates to help market through the forums or even word of mouth.
Thirdly, it will help provide consumers with the exceptional ability to interact amongst themselves, thereby creating a golden opportunity for the business to build new and stronger relationships among its clients. New clients will come as a result of the networks among your existing clients who will share information with their new friends, therefore helping to expand your consumer base which in turn increases your sale volumes.
Also, having an online community helps position your business as one which is credible, trustworthy and customer oriented. Most people today would like to be associated with businesses that have some online presence since that itself shows the business has the potential and interest to be there for good.
Lastly, a strong online community helps to build customer loyalty which will ultimately translate into greater returns in the long run. How you are being viewed in the social media, on blog articles or even photos can swing the vote of the public or prospective clients easily, as after all, first impression counts.
We are now in an era where even brick and mortar businesses must step out of their comfort zone in order to survive. People are placing lesser significance on traditional mediums of advertising as they can now easily download a mobile news application as opposed to carrying stacks of newspapers.

Businesses are starting to recognize the importance of building an online family, but many have done it all wrong. It is not about spending a large portion of your budget on creating a community platform, but it is about creating a sense of community. From a psychological perspective, people always desire to be part of something, and providing them with a platform to be able to relate, identify and contribute might just be the leverage that your business could use to grow to the next level.
Creating an Awareness of a Need in Google
The Moz blog had an interesting update in their Whiteboard Friday section where Rand Fishkin, the co-founder of the company, talked about the possibility of buyers being targeted earlier in the buying process by the marketers. The main idea he explored was targeting a large pool of potential customers even before there is an awareness of a specific need. Such a stage would precede awareness, research, vendor selection and the actual buying process. While most marketers are already at work during the research stage, as competition gets more intense in the consequential stages. This earlier stage, that precedes awareness, offers a much larger pool of potential customers and far less competition.
These different stages of online marketing and their corresponding audience can be compared to a funnel. There are many more people at the awareness and the research stages than there are at the final buying stage. The audience pool in the stage prior to awareness is even bigger. At such a stage there is the initiation of awareness of a problem or a need. The usual reactions at this stage are:
Some people push aside the thought of a need, thinking that it is not that urgent or big at that moment. Some people might research their need and then decide that it is way too expensive for them to afford. Some people might start to evaluate vendors and then decide that one of them meets their criteria
When people are pursuing interests or ideas, before they are aware that their interests become their need, have that need, most marketers are not active or even present at such a stage. While some marketers are present at the awareness and research phase, others mostly concentrate their SEO marketing efforts at the latter stages when customers are researching potential vendors and deciding on their purchase.
If marketers can get to the space when their audience is simply toying with an idea or gaining awareness of their need, they can bring in more promotions through:
Link sharing, stimulating social sharing of ideas and gaining prominence of their domain ranking amongst the various search engines, ensuring increased visibility for the subsequent contents that will be published or released.
It is akin to a snow ball effect that will gather momentum, more traffic, visibility and end up with a larger impact in the downward section of the marketing funnel.
If the uncertainty of the marketing outcomes can be overlooked at this stage, there are a larger audience base and far less competition to try innovative branding and promotional activities, thus creating a far greater impact.
The main idea of giving your audience a nudge even before they are aware allows you to illuminate the hidden problems, which will then give you a foothold to offer your solutions. Stepping in earlier before they are searching for you eliminates unnecessary competitions. Your audience shrinks as you go down the buying process, causing you to waste a good opportunity to build a solid community.
Reaching out is the key.