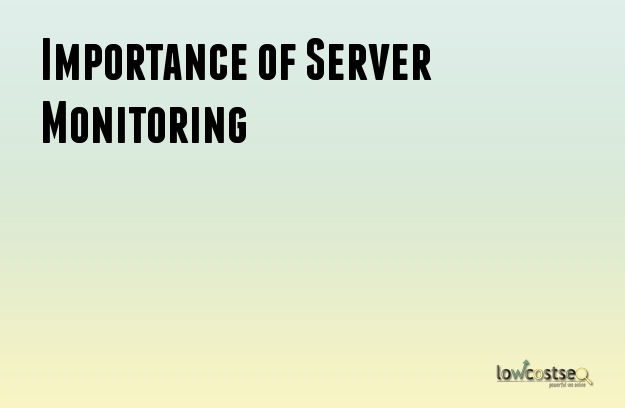 The Importance of Server Monitoring
The basic concept of server monitoring is to ensure a server or server infrastructure is functioning as it should be, but many stop monitoring at this stage. It is important to understand effective server monitoring allows you to take this a step further to enable effective performance testing to allow you to proactively pick up on any issues or vulnerabilities the server might have.
Server monitoring involves monitoring many different aspects of a network/server infrastructure. The server hardware, operating system, applications running on the operating system, network traffic, memory and disk utilisation and CPU usage are a few examples of top level items monitored in a common server infrastructure. In more depth monitoring can be performed such as looking as disk queue length, memory pages per second and total network bytes per second. Many other application or hardware specific monitoring can be configured and setup depending on which pieces of information are critical to business and support needs. Monitoring can be further enhanced on top of using out of the box OS monitoring by using applications such as Appdynamics which provides a very in depth application monitoring platform.
In businesses today it is very important to understand the importance of real time monitoring. This enables us to establish important statistics of server, network and application performance. Real time monitoring not only gives us accurate on the fly information of how good or bad our network environment is running but also hugely helps with foreseeing any future possible issues which the network might face as well as troubleshoot any on-going support work required. Effective real time monitoring not only is crucial to most business because of the importance of critical application monitoring ensuring it is functioning properly but also saves businesses money in the long run if any application/server downtime were to occur as it bringing up the server environment wouldn't be difficult knowing there is full traceability as to what happened before the issue occurred.
Server management UK
Most of the modern and thriving companies heavily rely on the internet nowadays. It is no wonder since the internet is the main way of exchanging information and as the time passes by it becomes more and more important in terms of trade. Of course, the ways certain companies use the internet varies pretty much and there are numerous applications that can help improve your business and boost your advertising. Still, all of those ways of using the internet have one thing in common. Namely, they depend heavily on the server speed and performance.
Most of the serious companies don't use the rental hosting services but they run their own servers. That has many advantages but it also underlines the need for the proper server management and maintenance. Lowcostseo server management UK team is very capable of providing all of the services required for proper functioning of your servers.
We provide several essential server management UK services on a top level. First of all, we are providing cheap server management services which are of the best possible quality. We will give our best to prevent all of the incidents that could be avoided. Still, these things can happen from time to time due to the very nature of the system and our expert team will do their best to remedy the situation in the shortest time possible in order to prevent any damage to your operations.
Our server management UK team also provides server optimisation services on all levels and that will greatly reduce the chance of system crashing due to the peak load.
The Lowcostseo server management UK team pays great attention to the issues of security. We are able to minimize the threats to your servers due to security issues and we monitor closely all of the possible incidents 24/7.
Our network monitoring services are also available around the clock and we will pay attention to even the slightest signs of possible problems and take appropriate action to prevent the serious problems.
Backups and data recovery services are also available with the Lowcostseo server management UK team and we will keep constant records of your data and make system restores possible as per your plan.
Finally, all of the services concerning database management are available as well. That includes installation, monitoring and optimization.
To make things even better, The Lowcostseo server management UK team offers server management under all sorts of server options, no matter if they are based on Windows or some of the open source platforms. To be more precise we offer both Windows and Linux server management services.
Both of the options are equally acceptable for our team and we are fully capable of carrying out any operation you need. Of course, the size of your business and your demands define which services you will require and the price is following the amount of work required.
This enables us to be very competitive and our services are not expensive at all. Concerning the quality we provide, you will find that we are providing truly cheap server management options.