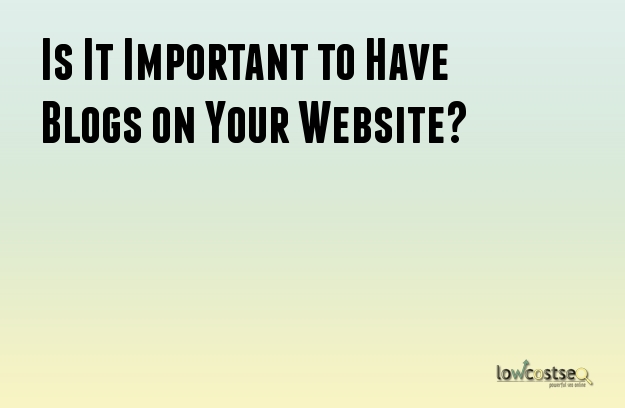 After you have established your complete website with all the basic contents such as the home page, your logo, products and/or services, media, and more, how do you keep it updated? Surely you can add new products and services to your website, but how long does it take you to post a new product or service?
The length of time it takes you to post again on your website is also the length of time your website is inactive and outdated.
The next thing you should think of is what your website is about. Is it for your business or for your skills? If it is a business, what kind of business do you have? Is it for fashion, food, or what? If it advertises your skills, what kind of skills do you have and what kind of services are you willing to provide?
Thinking about those questions, just how well is your site's focus emphasized on it?
Let's discuss more about how the factors stated above are important to be maintained and looked after, and how blogs can help you boost your web ranking.
Keeping your website active
It is very important that your website stays active and updated because most people prefer going to a website that shows the signs that it is active and ready to take their orders and other needs immediately. This factor is the reason why search engines also try to put up the most recent posts and most active websites on the list. Blogs are one way of solving this problem. Consistently posting blogs will make your website more active and updated. This method will also save you the effort of brainstorming every now and then to formulate new products and services. It also increases the volume of your website from just being a simple one that looks like a catalogue containing just the basics. You can make your blog contents different and unique by adding some instructions, DIYs, informative discussions, video clips, and other media that should be related to the main focus of your website.
Discussing the purpose of your website
Let's have a brainstorming exercise. Let's say that you have a website for your business and your business is a Spanish deli shop. Think of the products you are selling and the services you provide and what kind of blog topics can you write about them. For example, you can write a blog about variations of chorizos, the proper way of wine tasting, how to make paella, and more. Those topics all circulate within the main idea of your website. You can even add expert opinions or personal blogs to give it a sense of human touch. You can add media such as photos of recipes and video clips on how to do things properly, like in our example earlier, how to taste wine properly.
In a slightly more technical way of making your blogs work, focus on tags that are synonymous with your website. Don't put up too many tags on every blog. You can have a lot of tags in the totality of all your blogs, but never cram them on one blog. You can also emphasize your blog by adding featured snippets which will make your blog more interesting.
Ask for an expert's help
If you are not confident enough, or you simply just want to make sure that your SEO strategies are efficient, it is best to hire professional help. There are a lot of SEO strategists these days but make sure to consider that the company you will hire will always deliver as promised and that you get what you pay for without actually overpaying. They will help you save time and effort and even resources.