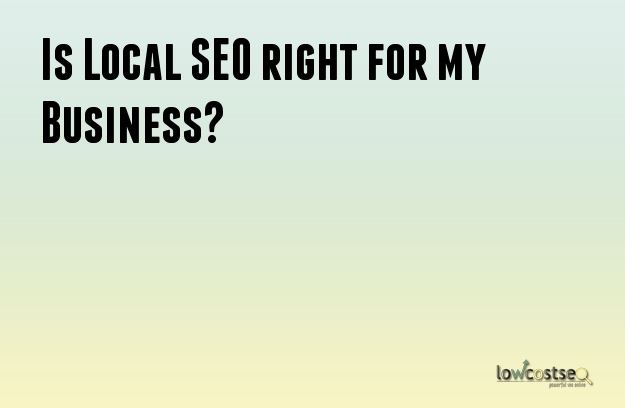 If you run a local, brick-and-mortar business or would simply like to bring geographically targeted traffic to your website, local SEO services might just be right for you. Although you might have heard of search engine optimization, you might not know much about local SEO services. You would be surprised to find out that this form of optimization could be the perfect choice for your website.
What are Local SEO Services?
With traditional search engine optimization, websites are promoted to users from all over the country or world. This isn't the case with local SEO. Instead, your website is being promoted to focus on bringing in targeted traffic from people who live in your city or town.
What are the Benefits of Local SEO?
Local SEO has a lot of benefits, particularly for those who have websites or businesses that are best used by people who live near them. First of all, you do not have to worry much about competition because you are only competing with websites from one area as opposed to the entire world. Secondly, you also do not have to worry about dealing with traffic that will never convert into legitimate leads. Instead, many of the people who stumble across your site through local search engines will be from your local area and are more susceptible to purchasing what you have to offer.
Do You Need Local SEO Services?
If you run a restaurant or a clinic, there is really no point in focusing on bringing in traffic from the other side of the country. Instead, you should focus on letting people who live in your vicinity know about the things that you have to offer. Similarly, if you operate a local news website, business directory or other sites for people in one specific location, this type of optimization could be ideal.
It is also a good idea to consider local SEO if your site is in a highly competitive niche. For example, it can be difficult to rank high for keywords such as "making money online" or "losing weight," but it might be a bit easier to do so if you choose a keyword that is related to your local area. Using local slangs can also help you to connect with your customers better.
What is Different about Local SEO?
There are a few things that differ between local SEO and more traditional methods. First of all, your keywords will typically include the name of your city, town or state. Secondly, your SEO professional will focus on making sure that your site shows up on Google Maps, business directories and more for your area. This will make your site and business even easier for people to find.
Local SEO services are essential for businesses or websites that are not positioned to go global. From training staff to correspond in foreign languages to indigenizing your website, these efforts can exhaust your company's resources unnecessarily. Before formulating a marketing plan for your website, it is imperative to evaluate your company's goals and define your target market.
Local SEO services enable you to achieve your marketing objectives while staying within your budget.