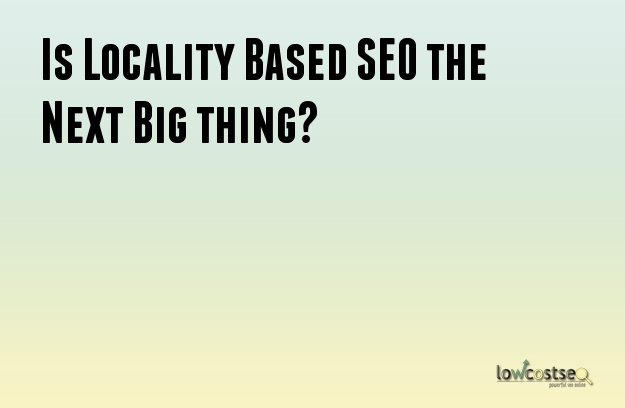 The number of business pages in Facebook is 11 million and it is growing. Google Places pages have crossed the threshold of 9 million and as per the claims of the company are concerned; 1 million new pages are coming into being every month. So, these figures make it quite clear that an increasing number of business owners have woken up to the reality that they need to give more attention to their local market.
Local markets still largely remain untapped as the penetrating of Local SEO is painful slow in some segments. Though an increasing number of people are making searches on Google maps or making location specific search queries, some business owners still ignoring them and not making their local presence is little more prominent.
Why Local SEO is More Important?
In this age of globalization, it sounds really remarkable that the importance of local SEO is increasing every single day. Since people are making searches with location specific keywords, it is becoming even more important for all business owners to make their presence on local market more prominent and robust. Here are some other reasons why you should be focusing more on Local SEO -
Local SEO Offers Greater Reach
As Google is making changes in its organic search every now and then, you need to explore every possible alternative ways to ensure that your business continues to drive business even its visibility on the organic search result page suffers from some kind of penalty. Local SEO offers comparatively stable platform and also you will be getting targeted audience and which is why you should be spending more time to improve the Local presence of your website.
It Helps Build Trust
It is a fact that when people see a website registered in Google Place, they rarely hesitate while doing business with it. Since most users are aware of the fact that Google Places has done some verification before approving the listing, your business will enjoy some additional, benefits. Try to get some positive reviews, comments and social love for that listing and you will see marked improvement in the conversion rate.
Your Business Will Gain Mobility
Since mobile users use mostly apps, your business needs to have robust presence in all major local search engines so that these users can find your website easily. Since mobile users have the option to call directly from their mobile, your business will hold better chance of converting them.
Optimize Your Local Presence
You need to get your website listed on all major local listing website. Start with Google Local, Bing Local Listing, Yelp and their likes. Just getting listed is not enough though. You need to make sure that you are using nice titles, description and also providing real details about the business. The address of your business should be the same on all local business websites otherwise it might be sending conflicting signals to search engines. In short, you need to make your presence of your business a little bit engaging and interesting.
So, it is quite evident that Local SEO is gaining currency and therefore, you need to pull your socks up and make your presence more robust and prominent.