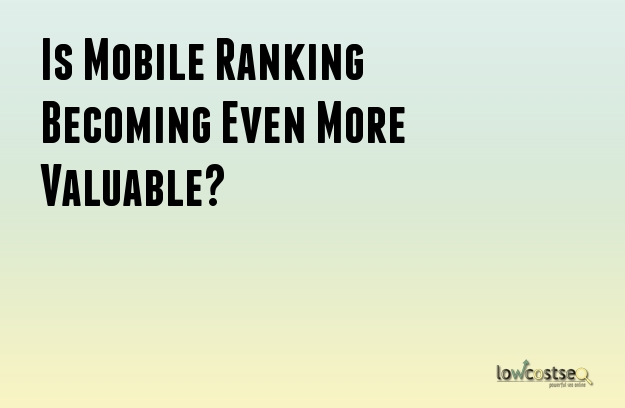 The number of smartphones and other mobile devices being used all over the world is growing at a rapid pace on a day to day basis. This widespread use of mobile computing devices has made it important to have a website that can be viewed on those devices without any problem. However simply having a website that can be viewed easily on mobiles and smartphones will not be enough. You need to ensure that your website follows the new guidelines for garnering a good ranking in mobile searches.
The Policy of Google With Regards To Mobile Ranking
In fact, Google has been repeatedly talking about the increasing importance of a website that is suited to the environment of mobile searches. A number of people have foreseen this circumstance and have ensured that their websites are ready for viewing on mobile devices. The need for mobile websites has been elaborated by Google. They have stated that their search engine will give more importance to websites that are mobile friendly and make them stand out from other websites.
This decision was to be expected from Google. Google has always tried to ensure that its users have the best experience when using their services. The number of mobile users is increasing daily which in turn means that websites that are mobile friendly will become more popular with the users. Additionally the volume of searches conducted from mobiles is increasing and Google wants to ensure that their mobile users face no problems.
Are Mobile Searches Overtaking Desktop Searches?
Some recent researches have revealed that users are more likely to use multiple devices to browse the internet. This does not necessarily mean that searches are being conducted more from mobile devices. Instead, a single user may be using multiple devices to browse the same websites and conduct the same searches. These users will of course prefer that they have the same experience with the website no matter whether they are viewing it from a smartphone or a desktop.
A Positive Impact for Marketers
The new polices being implemented by Google will encourage marketers to create or design websites that are offer the same friendly experience irrespective of the device being used. If the website remains incompatible with mobile devices then their rankings in the search engine results page will be impacted thanks to the new policy of Google.
If the guidelines stated by Google are implemented in the websites by marketers it is highly likely that they can get some considerable benefits. A better ranking in search results pages will be just one of those advantages. By following those recommendations, the marketers can drive the mobile traffic to their websites and provide them with increasingly relevant content and a good browsing experience. The bounce rate can be significantly reduced. Site conversions can be improved at the same time.
Marketers should test out their websites on a variety of mobile devices and smartphones with different operating systems. This will ensure that that the users can have an experience similar to using a desktop to view the website.