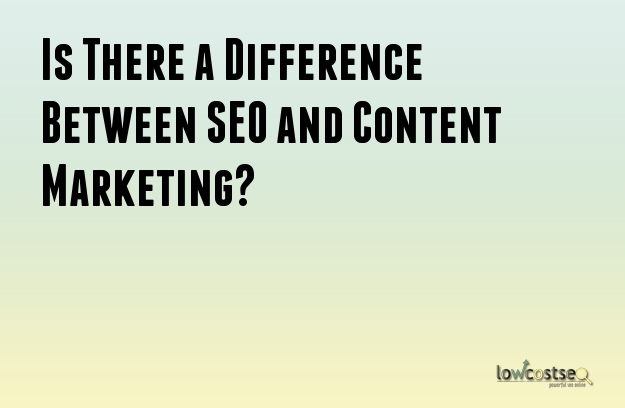 Most of the time people get confused over SEO and Content Marketing. As a matter of fact, Content Marketing and SEO work together in order to enhance each other. Content Marketing actually fulfills all the demands made by SEO. Here you will see how content marketing and SEO enriches each other.
SEO Demands Content and Content Marketing is that Thing
There will be no SEO without content, just because you would need keywords, articles, and substance, in order to rank better in SEO. Content is the substance of content marketing and is also the practical application of SEO.
SEO Starts along with Keywords while Content Marketing Funds Making Use of Keywords
The keyword is the synonym of SEO. They are the most vital component and all SEO team takes time to research on keywords to place them on the website and contents of it, for a good ranking in SERPs. The keywords are applied within the content. It is the job of content marketing to find out the place the keyword has to be implemented and then utilize it tactically all throughout the content. Thereafter, funnel the practical research in sentences.
SEO Demands Backlinks and Content Marketing introduces it
SEO has a demand for backlinks that has the work of redirecting your website for increasing the revenue and traffic of a certain website. This is then unleashed with the help of a stellar as well as a powerful content marketing. There are several other ways by which backlinks can be acquired but the most effective and popular one is by publishing an incredible content and then letting people reach out to it. You may build up links if you have a contract with the agencies that builds links. Some of these agencies are quite popular while on the other hand some of them are not.
SEO Ask for Consistent Performing Output and Content Marketing Depends on it
The main search engine Google has an affinity for fresh contents. Google also prefers regular updates. SEO is aware of the fact that content gets indexed quite rapidly and it gets registered in the top positions of the search results. Each and every time there is fresh content on the website, it gets higher authority than the others.
This signifies that good SEO is constantly on a lookout for consistent outputs. A consistent output means content demand that is regularly updated. There is no other way by which you can achieve better ranks. This is an active process and you have to continue doing this without stopping.
All these pointers are enough to prove the point that SEO and content marketing is not the same thing in any way. In fact, both of them go hand in hand and work efficaciously to achieve good ranking in search engines. SEO is about content and both of them are integrated. When you think of your website ranking, you will have to work with both of them and will not be able to discard any one of them. You cannot even replace one with another.
Image Courtesy:
www.digitalcurrent.com