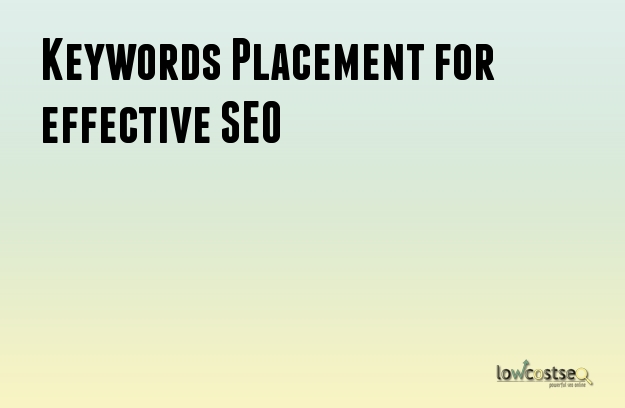 Keywords play a huge part in driving traffic to a website. And this very reason makes the placement of Keywords very important. In many case, new and inexperienced webmasters do not know where to keep the keywords in the right place which results in the Google spider's not been able to crawl the keywords then. Before carrying out a SEO campaign, you must first select the most appropriate keywords and put them at their correct place. Lowcostseo will assist you in finding the most appropriate keywords to market your website. Now lets talk about where to place these keywords:
1. Domain Name - After Google's update in 2012, they give less importance to the domain name when it comes to website ranking however we still suggest that having your most important keywords in the domain name will still give you some positive results.
2. Title Tag - This is one of the most important place for keeping keywords on the website. Even Google gives lots of importance on the Title tag. There are of two types, first one is a website title tag and second one is a post title tag. Make sure you place your chosen keywords on both of these places.
3. H1 Tag - This is mostly used as a heading tag of an article or blog. The H1 tag is more important then any other tag and plays a big role in Search Engine Ranking too. You must put all keywords within your H1 tag.
4. Website Description - This contains usually the summary of one's site. When you write a description of your site, please keep the primary keywords in the description so that the Search Spider's can pick them when crawling it
5. Meta Description - This is much more important then meta keywords as this is used for the web spider. You must create an appropriate meta description for your site whereby the main keywords are also mentioned in there.
6. Meta Keywords - This is the section which contains most of the keywords. You simply list all the keywords in this area. Make sure you do not keep or duplicate the keywords together.
7. Article - Articles play a big role in all SEO campaigns, and through them you can effectively place your keywords too. You must always remember to place your keywords at the top of your article and include them in the meta description area too.
8. Anchor Text -This text is used both for internal and external linking. You can place your keywords in the anchor text area.
9. Long tail URL - We encourage the use of keywords in your post url. E.g if you're a blogger then you can simply use Permalink in creating your post url and place your keywords in there.
10. Alt tag - This is used as an alternative tag for an image e.g logo. Alt tag gives the web crawler information about the image and many webmasters are advised to keep their keywords in the alt tag of an image such as a logo on the site.
All the above places are very important if you require an effective SEO campaign. Nothing from above should be overlooked and the more you give emphasis on the above areas the better and quickly your site will get seen in the search engines! Below is an example of how keyword/s are placed within the website. This infographic was developed by PCmethods showing how the keyword in question should become the focus keyword in the content of the website.
Today we will talk about a tactic used in SEO for the past number of years that actually has not really worked. Just like the Meta keywords this has not really worked too. No search engines has specified the amount of times you should use a specific keywords on your page or the percentage of the content that it should make up. We advise that over emphasis on the keyword density can actually end up having a negative impact on your rankings. When you think about keyword density and then write content it will be difficult in doing so. Its more imperative to have your content as engaging as possible and not just pieced up together by keywords that are placed out of context to simply make up the density percentage. The main aim is to keep the audience informed at all time and that should be your main objective when writing content for your site or blog.
Now you'll be asking "is there any alternative solution to this"? yes there is, instead of you thinking and worrying about the keyword density, simply focus on writing content that will bring in the audience. You can focus on working on the long tail traffic and the more in depth and engaging your content is the better the traffic will be from the search engines. Another tool is called Research, as you try to find out problems that your users want solved, you will dig up information and also discover and use phrases that you might have not located on any keyword tool. As your audience will rely on you for information so you can easily engage with them and share with them the new keywords in this process.
Finally, you can also use the keyword tool to search for keywords related and then somehow interlink and discuss them within your content. However you do it, make sure it serves brilliantly to the end user who relies on that piece of information. Try to avoid using several variations of the main keyword and instead focus on finding topics related to the keyword and add them within the content that you write.