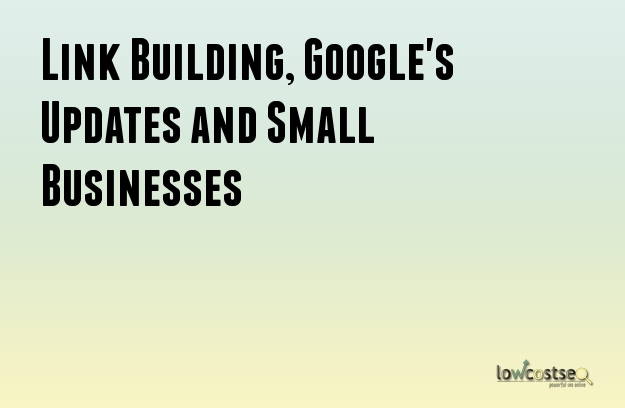 Today we'll take a look at life of websites from small to medium based post the Panda and Penguin updates. We all comprehend that Google is increasingly scrutinizing potentially spammy link profiles. Also having lots of links from smaller sites is no longer best SEO practice. Times have changed due to Google's strong hand in punishing the wrong-doers in cutting shortcuts. These days it makes more sense to consider the referral value of links as much as the SEO value of links. See one must understand that if you go for links that are based in referral value then you do not have to worry about building up a spammy link profile.
What we will point out now is how this new link building strategy or advise could be taken in a negative way by many small businesses. The new link building articles are mostly written by middle to large corporations. They have established brands, websites, consumer relationships and the marketing muscle to pursue high referral value links from blogs and newspapers. Now for a Small business this is sort of link building strategy is simply impossible.
Despite all the issues about link building recently, the small business link building is not all that different then it used to be, one just has to avoid links from spammy sites. You to get positive and try to find the referral value links to enhance your link profile. You have to seek and locate opportunities to earn a link for your website. Here is a quick guide into link building for small businesses:
Guest Posting - This is still one of the best way to link building to just get started. There are many sites out there that is looking for content so do submit your work and mention about yourself at the end so that it links to your site. People love excellent and well structured content to make sure it's engaging and something the audience love to read.
Reviews - Another way is to write reviews of products and services that you and your clients use in solving issues or problems. This is seen as valuable content to the audience and its link worthy content too.
Do not buy links or trade links at all as its all about honest hard work as there are simply no shortcuts to SEO. Take the longer route and get rewarded for it.
On May 13th 2013, Google released a video with regards to the changes that it had decided to implement for the webspam-fighting algorithm Penguin. The online industry has been curious to know what the newest update will be and how will this update affect the businesses.
On 22nd May 2013, Matt Cutts, Google's head of search spam stated on his blog that Penguin 2.0 has been rolled out. He said that around 2.3% of all English-US queries have been affected and they are near to complete the update for International queries too.
The Penguin 2.0 was meant to be the biggest update from Google for a long time, hence we have been looking forward to see the changes brought up in this update. There have been a total of four updates that Google has rolled out with regards to Penguin. These are:
April 24th, 2012 - This impacted 3.1% queries - Penguin 1
May 26th 2012 - This impacted 0.1%queries - Penguin 2
October 5th 2012 - This impacted 0.3% queries- Penguin 3
May 22nd 2013 - This impacted 2.3% queries - Penguin 4
As soon as we find out more about this update, we will inform you first here on Lowcostseo.co
Above is a very precise infographic from Koenigwebdesign outlining ways in which you can get your website ready for the Penguin 2.0 update.
Conclusion...
If you're a small business owner reading this, please don't forget that all that matters, in the end, is quality and not quantity. Please do not go about buying cheap links from other sites as that will not get you anywhere. You have to put up brilliant, engaging posts that will build quality backlinks to your site and in time Google will surely reward all the efforts you put in.