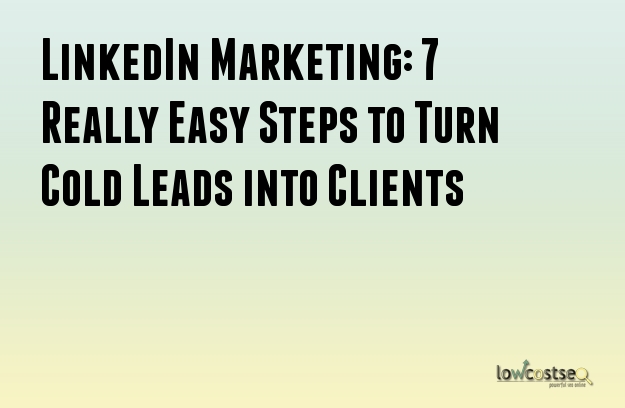 Are you searching for ways on how to market your services through LinkedIn? Do you want to know how you can find the right prospects then engaged with them?
Here are the 7 key steps that will achieve that.
Step 1: Find Prospects
Utilize the Saved Searches, Boolean Search and Advanced Search. In this case, you need to be very focused in defining your target audience. Keep in mind that the decision makers that were just hired are 10 times more likely to purchase than the already established ones.
Step 2: Build Awareness
This means that you need to engage with your already defined target audience. This is to increase your visibility online. This is the very step in each "buyer's journey". You have to be proactive in putting out your services or products you offer in front of the buyers. The simplest and most effective way in building up awareness in LinkedIn is to view your prospect's profiles through LinkedIn.
Step 3: Evaluate Engagement
You have to monitor the prospects from a different angle - the ones that view your profile. Aside from you searching for prospects, this one entirely is different because they are showing interest in knowing more about you. Go to the "Who's Viewed Your Profile" area. In fact, this is the most popular place in LinkedIn. By using LinkedIn proactively, you get to create interest in what you can offer to them.
Step 4: Get Connected
Once you have all your prospects lined up, send connection requests to them. This is one of the greatest things that you can take advantage of LinkedIn - you get to grow and even reach the first degree network. Not only that, their connect approach that has a permission basis receives 60 percent higher response rates, and all of them are positive ones, too.
Step 5: Monitor Response
You have to keep track of the connection requests made and the message replies. Avoid letting an opportunity slip out from you. Create your own custom Gmail account that will filter and monitor out the notifications and responses you have created in LinkedIn. Make sure that this account is assigned to LinkedIn as your primary email.
Step 6: Call to Action
Just because you only received one message you have to give up on your prospects. All these means, generally speaking, your prospects really want to hear something from you. In fact, around 64 percent of the buyers reported that they appreciate hearing back from the sales person that provides insight and knowledge to them.
Step 7: Re-Engage
Stay always at the top in your network in order to build authority and trust. A lot of purchase decisions involve a lot of decision makers and this can take several weeks or even months to make it mature into a sale. You need to position yourself as being a trusted expert, and with your buyers through publishing on LinkedIn and leveraging status updates.