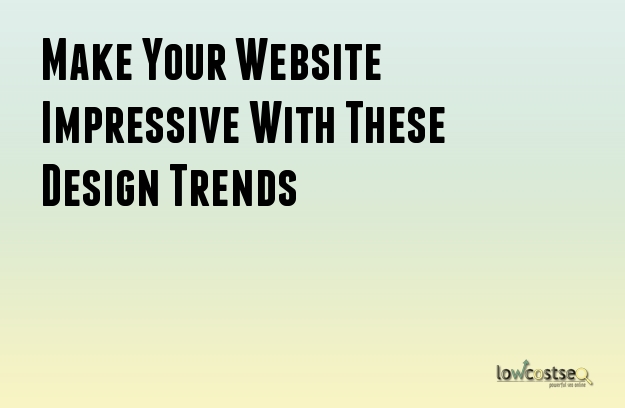 Your website should be capable of grabbing the attention of the visitor and make them sit up. They should be immediately impressed with the design of your website.
The fact is that, the trends in designs tend to change quite rapidly. Your website has to keep up with the changing times to ensure that your visitors keep coming back. If the design of your website has not been updated in a while, you should consider looking at some of the latest trends. You may need to make only a few changes to make your website feel like new. After all, the perfect design is important to making a good impression on your future customers.
Flat Design
Flat Design has become a popular design trend and it can be seen almost everywhere. Flat designs are very simplistic which have a certain charm of their own. Flat design has been influenced by different artistic styles such as minimalism, Swiss and Bauhaus.
Avoid any sort of gloss especially on buttons and icons.
There should not be any gradients or beveled edges.
Dimensions are absent in this design.
Grid Layout
The gird layout is quite popular due to the ease it provides to the visitors. They can make it easier for the visitors to browse through the information given on the website. This particular style can be considered to be a celebration of precision and geometry.
A grid layout requires the use of solid colors and bold outlines.
Geometric shapes are, of course, a necessity when using this particular style.
It is important that you apply your logic and calculate the placement of the different objects on the structure of your web page.
Stylized Fonts
Nowadays, fonts are not limited to simply the basic ones. Many companies and websites are creating and using their own custom fonts. There are now free typekits available to make it easier for you to choose your very own special fonts for your website. Google Font is one of the more popular and free typekit. Traditional fonts are rarely used in the newer websites.
Custom fonts can be extremely beneficial when it comes to making a brand image for your company. Being unique, people will associate it more easily with your website and company.
You should opt for fonts that look distinct from the other typefaces used by your competitors.
Modern styles of fonts are preferable.
Handwritten styles of fonts are another popular choice and they seem to be fast developing into a trend.
Larger typefaces are increasing in popularity as well.
Colors
A good design is useless unless you use the proper colors for it.
Pastel colors are fast becoming the choice for websites. Even Google has opted for this color scheme.
Pastels tend to work better when you use a flat design.
Many websites utilize a single color for their websites. They simply use variations in the shades of the solid color to create a unique look.
Choosing the best design for your website can be as important as choosing the right SEO methods. Impressing the visitors is, after all, an important activity you must participate in.