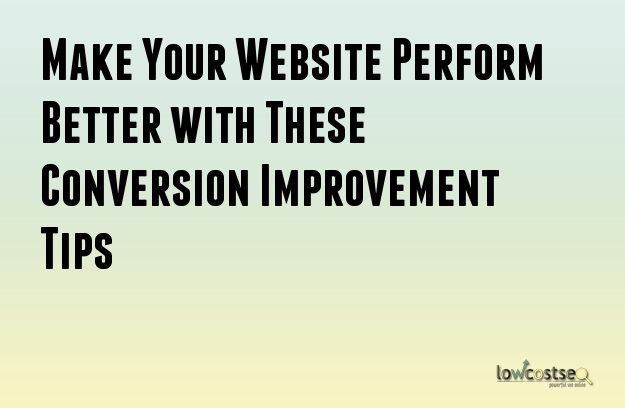 Have you checked the performance of your website lately? Is the website converting a lot of visitors into customers who actually pay? After all, many people do leave without making any purchases whatsoever. The rate of conversions should be better than the bounce rate or else you might just be losing money.
You may find that your website is not performing according to your expectations. Additionally, you want more sales leads to be generated along with lots of enquiries. In that case, you will have to improve the conversion rate. This means, you will have to customize your website. There are certain tips you can use in order to improve the conversion rates
Testing
You can test your website in different ways to improve your conversion rates. You can test out two different designs and see which one gets the most conversions. You can also opt for browser testing to check which browser has a better conversion rates. You can check your website for browser specific problems and rectify them as well.
Email
Email marketing can be a great way to improve conversions. All of your forms should contain a section for email. Gather the email and the permission of the visitors so that you can market your products through the emails. Opt for a drip campaign so that you can deliver the content directly to your customer.
Track Your Goals
You have created your website for a specific purpose and to achieve a certain goal. Your goals should match that of the customer. Mention them in your website in the footer.
Eliminate Unnecessary Elements
There are many elements which are almost certain to destroy the conversion rates. This includes image sliders, carousels and rotating banners. They make it difficult for you to get good conversions. A jump page or a splash page can cause a similar problem. Your customers do not find anything of value in these pages. You can opt for IP detection instead of these pages.
Key Functionality
Key Functionality can be of immense help in reducing the number of stages required to achieve the website goals.
Targeted Landing Pages
Your landing pages need to be highly targeted. At the same time, the distractions on them should be minimized so that the conversion rates can be increased. Landing pages can make or break the sale.
Mobile Optimization
Due to the increase in the numbers of mobile users, you need to ensure that your website has been suitability optimized for the screens of smartphones, tablets and other mobile devices. Nowadays, almost half of the traffic to your website can be generated from these mobile devices.
Usability Issues
There are multiple ways to improve the usability of your website. You can add options for multiple languages. At the payment gateway, you can have multiple payment options listed. Surveys can be a suitable option as well. You just need to ensure that the visitors have a good time in using your website.
By making your website better, you are increasing the chances of conversions. In short, you will be able to generate more sales.
Addressing the customer pain points for higher lead conversion
The best way for marketing professionals to check out a qualifying lead is by finding out the customer problems and addressing it. You must make sure that the customer does not just want a type of product or service, but essentially the ones that you are offering. If you are able to address their needs better than anyone, they will only look for your services.
There are certain cardinal pain points that the common for all customers. You need to address them tactically to make sure that the customers are satisfied and you are able to make tour sales too.
· Price: The goal of every marketer is to increase the workable leads and get them to convert. You should provide the product prices in your web site, just make sure that they are not on every page. But, do not be obscure about the prices as you may lose many potential customers who would want to know the prices before they show interest in your product.
If the prices are displayed, your web site and business will look for trustworthy. Customers will always be suspicious of the businesses that are not transparent about the product costs.
This will be helpful for you too as you won't have to waste time on leads that will not workout eventually. You will know for sure which customers can actually afford your services and you can direct your entire resources to converting them. It is win win for both the parties.
· Location: Your customers may be present in different parts of the country. Here you need to decide if you want to keep one common web site or local web site for each region. If you have local site, it can attract the customers more and make them feel more connected to you. You will also be able to provide quicker service to them if you have a local office.
· Perceived risk: This is a major pain point for all customers. When they are investing their money in something there is always an element of risk that they cannot ignore. But, you can make the process simpler for your customers by setting up a proactive pre and post sales helpdesk that can answer all the questions and queries of the customers. You can include things such as client testimonials and warranty to reduce the risk factor for the customers.
How to discover customer pain points?
Nowadays the marketing professionals have access to a wide variety of data that they can use for their strategy. The marketers can use these to find out more about the customers and serve them better.
There are also certain things that they can do to find out more details the customer's problems.
· They can conduct customer interviews and ask them detailed questions regarding the product and their response.
· Including a live chat option in the web site to resolve the customer's queries and questions at the earliest.
· Qualitative research techniques for further information.
With these techniques the marketers can improve their leads and make more sales.