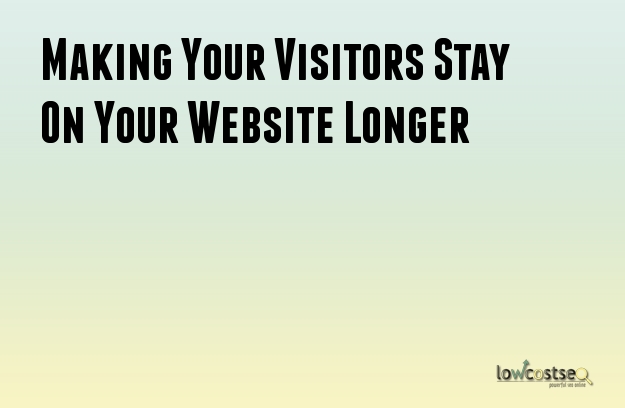 The visitors to your website should be interested in staying there for a long time before moving on. You should already have an idea about the average time spent by the visitors on your website.
It is quite easy to determine how much time is being spent by your visitors on your website. All you need to do is create an account in Google Analytics for your website. They can provide a tracking code which can be installed in your website. Once the installation is properly performed, you will be able to view various statistics to check how much time is being spent by the visitors on your website. If you find that people are not staying for a long time, you can incorporate the following tips to improve the metric.
Avoid Too Many Advertisements
Advertisements can be quite necessary in a website. There are many types of advertisements that can be attached to your webpages. Most people will not mind them as long as they those advertisements are limited. Using too many advertisements is going to make your visitors leave.
Flashing adverts or pop ups tend to be extremely irritating. Continuously showing the same advertisements when the pages load becomes annoying to the point that the visitors are forced to leave. Remember, the visitors are here to get information and not advertisements.
Decrease Loading Times
Users nowadays have become used to speed when it comes to using digital technologies. They may seem impatient but it is a fact of life. Even small delays can cause you to lose some customers. With that in mind, you need to decrease the loading times.
You can reduce the sizes of your images and use a plugin for caches. Try to keep the code of your website free from all unnecessary inclusions.
Smoothen Your Navigation
Navigation is the schematics which help the visitors decide where they can go to find something they want. The navigation should be clean and simple. Group pages into broad categories and make each page clearly distinct. It will be a lot of help to your visitors.
Making the Text Readable
Your visitors are bound to be annoyed when they are unable to understand what has been written on your website. The color you use for the text should be legible irrespective of the device that the visitors use. The font should be large enough to be easily readable. Font sizes that are too small or too big become a headache to read. Creative fonts can be attractive as long as they do not pose any problem to the visitor.
Optimizing for Mobile Devices
You simply cannot let your website remain without being optimized for mobile devices nowadays. People often use their mobile devices to access the internet. If your website does not render properly on mobile devices, you are going to lose out on a lot of visitors.
You may perform SEO campaigns to increase the traffic flow to your website. However, it will be of no use if the visitors leave almost as soon as they come.