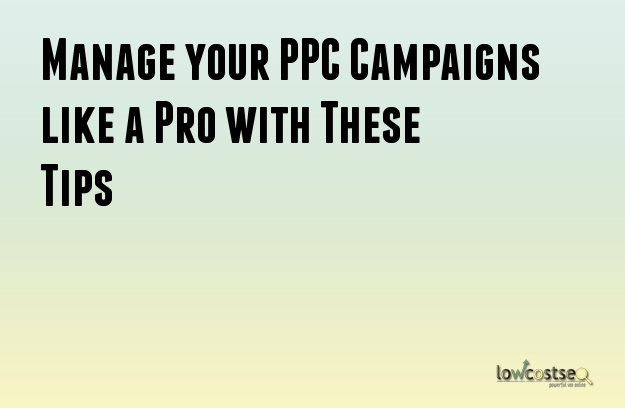 A pay per click campaign can be a great way to attract customers willing to make purchases. However, just like any advertising campaign, you need a good strategy. At the same time, you need to manage the campaign in the proper manner so that it brings in the best result. You can make use of the following tips to ensure that your strategy is being managed in the proper manner.
Always Have a Thorough Understanding of Your Goals
Unless you know the aims of the PPC campaign, you will not be able to manage in the proper manner. For that, you need to have a thorough understanding of your business and the products you are selling. The targeted customers also need to be taken into account.
This step is essential as it will prevent you from using the wrong keywords. Otherwise, you will end up creating a campaign that does not bring in any customers. Instead, you will be losing a lot of money in the process. Define the goals of your PPC campaigns before you start running them.
Setup Google Adwords in the Proper Manner
Plan the setup of your Google Adwords account in the proper manner. Improper accounts can end up harming your PPC campaign extensively in these ways.
You can end up creating multiple campaigns to serve a single product or service category.
There can also be multiple ad groups that end up targeting the same product.
Keywords can also get duplicated in the same way for different ad groups and campaigns.
Of course, you will find it difficult to keep track of the campaigns and measure their performance.
Do not forget to Track Conversions
There are many people who run PPC campaigns but do not track their results. This is an incorrect approach. Without conversion tracking, you will not be able to measure how effective your ads or your keywords actually are. It is important for you to know what resulted after your ad was clicked on by someone. If a conversion did occur, then you need to know which ad or keyword resulted in the sale. The insight to these metrics can be invaluable in improving the PPC campaign.
Campaign Settings Should Be Optimized
You will be wasting a lot of money if you do not optimize the campaign settings. The settings should match the goals of your business. Check your campaign settings and ensure that they are optimized in the proper manner.
Your campaign should be targeting specific audience. You need to ensure that the ads are targeting audience based on the correct languages, locations, devices and networks. Relevancy is the key to running a successful campaign.
Your campaign should be using the correct ad scheduling and budget. Ensure that the bidding option is the correct one as well.
Managing a pay per click advertising campaign may not be easy. Nonetheless, it is important to do so. You will be able to gain much better results by ensuring a proper management of the campaign.