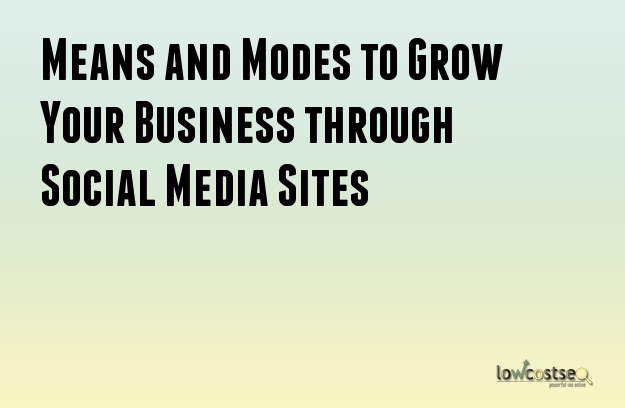 Are you using social media sites just for having fun or are you seriously looking to derive some positive results for your business? Using of social media sites can help your business grow to a new level. Previously, social media sites were more instrumental where the majority of the clients were seen coming from Twitter in the first year. But, the questions stands as to how you are going to use it for the benefit of your own business.
There are various infographics that might help and figure out as to how you can expand your business with the assistance of social media sites like, Twitter, Facebook, Linkedin, OpenTable, Yelp, travelocity.
These are some of the names of the social media sites that can help in serving various needs and makes it convenient for people to keep track of you, analyze you, depending on the type of business you are in. So, in order to track down your potential customers here is a list of few renowned social media sites.
Find your targeted customers on social media sites
OpenTable: This social media site is mainly focused for the restaurant business. If you are in the restaurant business, then this is the most apt place for you to find your potential customers. Do not waste your time looking for your clients anywhere else.
Yelp: This media site is mainly designed and built for businesses that believe in providing services related to self-maintenance and presentation. Here you will find customers who are looking for salon services. Thus, if your business is related to this service sector, then make use of this site to expand your customer base.
Travelocity: Many businesses are related to providing good travel experience and comforting stay to their customers when they are on a travel expedition. Nowadays, customers are more prone to booking their packages online rather than going headhunting for the search of the best travel agent. So, if your business is mainly related to travel and expedition then do position your business on travelocity.
Linkedin: There are various financial services that are available nowadays. The idea of these financial services is to provide future scopes for potential investments. Is the objective of your business to provide financial aid and consulting to your customers? Well, then Linkedin is the social media site where you can communicate to various customers who are looking for similar services that your business provides.
Spend for your advertisements on social media sites
For customers, every social media site is completely free to access, but this is not the case for businesses that use it for their profession. Yes, it is important that you prepare advertisement strategies to draw the attention of your customers. The rule is the same even on social media sites. To do advertisements on these sites, you will have to pay a certain amount of cash on a regular basis. And, it is relevant that you spend your money for something that is useful and constructive and also gives you the hope to draw your customer's attention.